Stock-Index Trades Rising at Fastest Pace in Six Years: Options
Lu Wang, Inyoung Hwang and Nikolaj Gammeltoft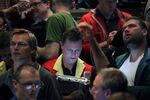 Options trading in benchmark gauges such as the Standard & Poor's 500 Index is growing at the fastest pace since 2007, spurred by investors seeking protection from widespread declines after the broadest rally on record.
A record 385 million contracts on stock-indexes changed hands in 2013, 20 percent more than the previous year for the biggest increase in six years, according to data compiled by the Options Clearing Corp. Indexes accounted for 9.4 percent of total options trading, the largest proportion since 2007, data from the Chicago-based organization show.
Investors turned to contracts on baskets of shares, rather than single stocks, after the S&P 500 rallied to its best annual gain in more than a decade. Citigroup Inc.'s Tobias Levkovich and Blackstone Group LP's Byron Wien have cautioned that the benchmark index, which hasn't had a decline exceeding 10 percent in more than two years, may have a correction in coming months.
"The stock market has gone pretty straight up all year long," Joe "JJ" Kinahan, chief strategist at TD Ameritrade Holding Corp., said in a Dec. 26 phone interview from Chicago. His firm has $556 billion in client assets. "With the market at all-time highs, people maybe are shying away from individual stocks a little bit and making a broad play here."
The S&P 500 surged 30 percent last year, exceeding 1,800 for the first time and capping the best annual increase since 1997, amid Federal Reserve stimulus and faster-than-estimated economic growth. All but 40 stocks in the S&P 500 rose, the broadest gain since at least 1990, data compiled by Bloomberg show.
Options Volume
Total options transactions, which take into account both equity and non-equity products, rose 2.7 percent to 4.11 billion contracts last year, according to OCC data. Volume tumbled 12 percent in 2012 after surging to 4.56 billion the previous year for a ninth-straight record.
Non-equity volume, dominated by index contracts, has climbed to the highest level since their introduction in 1982, OCC data show. The category also includes debt and currency options.
While most equity derivatives are listed on multiple exchanges, CBOE Holdings Inc. runs the exclusive venue for options based on the CBOE Volatility Index and the S&P 500, the most active in the U.S. The bourse, which accounts for about 27 percent of the options trading, has an agreement with S&P Dow Jones Indices to exclusively list S&P 500 options.
VIX Volume
Investors looking for protection against stock losses pushed the volume on the Volatility Index, known as the VIX, to an all-time high last year. Average daily trading for VIX options jumped 29 percent to 567,460 contracts, the highest since its introduction in 2006, according to CBOE Holdings.
A total of 11 million S&P 500 options contracts were outstanding at the end of 2013, up 23 percent from the beginning of the year, data compiled by Bloomberg show.
"People were preparing for a big downturn that never came," Randy Frederick, managing director of active trading and derivatives at Charles Schwab Corp., said in a Jan. 6 phone interview from Austin, Texas. His firm has about $2.2 trillion of client assets. "The VIX has gained a lot of popularity among retail investors. SPX is used a lot by institutions," he said, referring to the ticker symbol of the S&P 500.
No Correction
The market finished 2013 for a second year without a correction, or a decline of 10 percent or more from a peak. On average, corrections have occurred every 18 months since 1946, according to a study by Sam Stovall, chief equity strategist at S&P Capital IQ.
The S&P 500 last suffered a correction from April 29, 2011, through Oct. 3, 2011, when the index dropped 19 percent. The benchmark gauge has since gone without a 10 percent loss for 27 months, the longest stretch since 2003. Strategists surveyed by Bloomberg forecast the index to rise to 1,956 by the end of this year, extending its more than 170 percent surge from a 2009 low.
Estimates for further S&P 500 gains come even as analysts are the most bearish on individual companies since at least 2004. They predict 116 stocks in the S&P 500 will fall this year, the largest number of bearish forecasts in nine years, according to year-end price targets compiled by Bloomberg.
The CBOE S&P 500 Implied Correlation Index, which uses options to indicate how closely stocks in the benchmark index will move together, tumbled 27 percent last year and reached 49.24 on Dec. 27, the lowest level since September 2008, according to data compiled by Bloomberg.
Market Driver
Investors will focus on company results, dividends and buybacks rather than economic and political events as the driver for stock prices in 2014, according to derivative strategists at Deutsche Bank AG. Market volatility will remain low, reducing the need for broad options hedges, they said.
"Single stock stories continue to take center stage as correlations fall," the strategists, including London-based Pam Finelli, wrote in a report to clients on Jan. 2. "We do not foresee the need for protection against a major selloff in the coming months."
The VIX fell 4.7 percent to 12.92 yesterday as the S&P 500 snapped a three-day retreat, rising 0.6 percent to 1,837.88. The gauge of S&P 500 options dropped 24 percent last year for the biggest loss since 2009. It fell 0.4 percent to 12.87 today.
Index options may remain popular as investors bet on the broad market, speculating on the Fed's pace to reduce its economic stimulus, according to Andy Nybo, the head of derivatives research at New York-based Tabb Group LLC. The central bank announced in December that it will start dialing back its bond-buying program this month.
"If I expect the market to continue to rise because the Fed continues to add stimulus to the economy, an easy way to take advantage and leverage that concept is to buy an option on the S&P 500," Nybo said by phone.
Before it's here, it's on the Bloomberg Terminal.
LEARN MORE