Maryland Democrats Turn on Each Other Over Obamacare's Botched Launch
By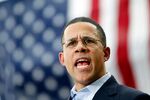 Republicans are determined to hold Democrats accountable for the horrendous launch of Healthcare.gov. Now they have some company: other Democrats.
Two Maryland Democratic gubernatorial hopefuls are making an issue of the disappointing rollout of the state-run health-care exchange as they run against Lieutenant Governor Anthony Brown in this year's Democratic primary. As the Washington Post's John Wagner notes, Brown oversaw the project for current Maryland Governor Martin O'Malley.
The newspaper reports that one of these candidates, Heather Mizuer, a state delegate from Montgomery County, called the launch of the state exchange a "debacle" this week and called the state legislature to "step in and make it right." She joins Maryland Attorney General Douglas Gansler, a Democrat gubernatorial hopeful who has "taken repeated shots" at Brown, according to the Post, over the exchange's disappointing debut.
This is unexpected turn of events for Brown. A year and a half ago, I wrote a piece about how Brown was proudly overseeing the O'Malley administration's campaign to implement Obamacare ahead of other states. I have to admit that I thought he was prescient at the time. I did point out, however, that Maryland was building an enormously complicated online exchange and that governments haven't always been good at such technological endeavors:
Maryland faces big challenges as it tries to assemble all the pieces of the massive law. That computer system the state's building? It will have to connect seamlessly with both Maryland's Medicaid system and the federal government's computers. No easy task, given the government's less-than-inspiring history of information sharing—and made harder because the law requires states to start enrolling residents by October 2013.
That turned out to be an understatement. Brown wrapped himself in Obamacare, and now he has to live with the consequences of its early failures. His own party members won't let him forget them.
Before it's here, it's on the Bloomberg Terminal.
LEARN MORE