Investors Follow 'Sell' Ratings on Twitter Shares
By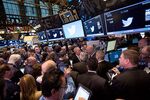 More and more Wall Street research shops think Twitter shares are due for a fall.
A Cantor Fitzgerald analyst who changed his rating to "sell" today marked Twitter's second downgrade this week—and its sixth since mid-December. The news helped send Twitter shares lower when trading opened on Wednesday morning, although the stock price has more than doubled since the company's Nov. 6 initial public offering. Of the 27 analysts tracked by Bloomberg, only six of them rate Twitter a "buy" while 11 are neutral and 10 recommend selling. That's an unusual number since "sell" ratings are relatively rare from analysts, especially on tech stocks.
"While historically we've reserved our 'sell' rating to business models with structural challenges"—i.e., companies in deep holes without a lot of options—"we find TWTR's valuation to be excessive and currently see materially more downside than upside," Cantor Fitzgerald's Youssef Squali wrote in his report. He continued: "Even compared to other high-flying Internet IPOs, Twitter is in a class of its own."
The company has never made a profit. Two months after going public, Twitter's enterprise value is more than 30 times its revenue, compared to a multiple of 15 for Google, 8.5 for Facebook, and 4 for Yelp at similar moments in those companies' lifetimes, as Squali noted.
Macquarie analyst Ben Schachter, who downgraded Twitter on Dec. 27, put it simply: "We expect this to be among the shortest downgrade note you've ever read, as nothing fundamentally has changed since our Neutral initiation on Dec. 11, except that shares have risen 40%." In the long term, Schachter is more positive, writing that he is "quite bullish" on Twitter's potential.
One factor worrying analysts is that a lot of shares are poised to come into the market: On Feb. 15, when a post-initial public offering "lock-up" expires, Twitter employees will be allowed to sell almost 10 million shares. That will be tempting if the stock stays around its current level. An even greater number of shares, some 450 million, can be sold in early May.
The chart below shows the rise in Twitter's share price (white line), against the average of analysts' price target (yellow line). The colored bars show the research shops turning from unanimous "buy" ratings initially to just 22 percent today:

Before it's here, it's on the Bloomberg Terminal.
LEARN MORE