For Asia's Octogenarian Tycoons, 80 is the New 50
by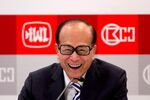 Hong Kong entertainment mogul Run Run Shaw passed away yesterday, two years after retiring at age 104.  That kind of longevity is not unusual in this part of the world, where many of the top family-run empires still have the Old Man in charge. Here's a list of some of the most prominent Asian tycoons well past their 80th birthdays.
Robert Kuok. Born in 1923. Malaysia's richest man, Kuok owns 32 percent of Wilmar, the world's biggest processor of palm oil. Through his company Kerry Group, he also controls Kerry Properties. The world's 49th-richest person, according to data compiled by Bloomberg, with net worth of $16.4 billion, Kuok runs the luxury hotel chain Shangri-La Asia. Last month an additional  Kuok-controlled company, Kerry Logistics Network, raised HK$2.2 billion ($284 million) in a Hong Kong initial public offering.
Henry Sy. Born in 1924. The Philippines's richest man, with a net worth of $11 billion, was born in China's Fujian province. He controls almost 60 percent of SM Investments, the largest operator of shopping malls in the Philippines, and owns the country's biggest bank. In November, SM Land, his property development company, won a 54.5 billion peso ($1.2 billion) contract to reclaim 300 hectares (741 acres) of land in Manila. The site is next to Sy's Mall of Asia, a giant shopping center that is almost 1 kilometer long and has 407,000 square meters of space.
Li Ka-shing. Born in 1928. The richest man in Hong Kong has a net worth of $29.7 billion, making him the 21st-wealthiest person in the world. Li controls Hutchison Whampoa, a conglomerate that operates ports, retailers, telecom networks, and other businesses, as well as Cheung Kong, the Hong Kong-based property developer. Li, who has been selling some Hong Kong assets to focus on faster-growing markets, is grooming son Victor to lead Cheung Kong when (should that be if?) he retires.
Cheng Yu Tung. Born in 1925. The world's 39th-richest man has a net worth of $19.4 billion. He owns 89 percent of Chow Tai Fook Jewelry Group, the largest jeweler in China and Hong Kong, and controls New World Development, a property developer that has stakes in 16 hotels in Asia. Last month, his NWS Holdings agreed to pay HK$2.36 billion ($304 million) for 8.8 percent of Beijing Capital International Airport, increasing New World's stake in the mainland's largest airport to 20.4 percent. In 2012, he became honorary chairman of Chow Tai Fook Jewelry Group, with son Henry taking over as chairman.
Lui Che Woo. Born in 1929. Lui is the second-richest person in Hong Kong, behind only Li Ka-shing. With a net worth of $26.8 billion, he is the 23rd-wealthiest person worldwide. Lui controls K Wah Group, which owns a stake in Galaxy Entertainment, an operator of casinos in Macau. With business booming as gamblers from the mainland flock to the former Portuguese colony, Lui's wealth soared last year. His son Francis is Galaxy's deputy chairman. In a Nov. 15 interview, Francis Lui said the company plans to spend HK$10 billion to build non-gaming facilities on a Chinese island adjacent to Macao.
Lee Shau Kee. Born in 1928. The world's 34th-richest person, with a net worth of $22 billion, Lee is founder and chairman of Henderson Land Development, one of Hong Kong's top property companies. Since 1983 he's been chairman of Hong Kong & China Gas (known as Towngas). In October, Henderson agreed to pay HK$2.96 billion ($382 million) for shares in Towngas and other companies.
Before it's here, it's on the Bloomberg Terminal.
LEARN MORE