Chinese Artists' Studios in Crosshairs of Land Rights Dispute
Christina Larson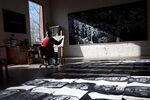 Painter Gong Hao focuses on depicting the rural way of life vanishing quickly in fast-urbanizing China. "My works are not about politics or amusement, but about the real life of people, especially the poor and underclass," says the former farmer from Shaanxi province. In 2005 he moved to join other like-minded souls in setting up a studio on the outskirts of Beijing, in a community known as Songzhuang artist village. Back then, the area "did not even have a real modern road," he recalls, and renting land from the village committee was dirt cheap.
What he didn't understand was that it was also illegal, due to the complexity of Chinese land rights laws. Now, as the government of Xi Jinping begins to enforce more tightly the laws governing the use of rural land, Gong and other artists wonder whether they will face eviction. In the past two months, several newly built studios in Songzhuang have been demolished before their artist-owners were even able to move in. "I think if it was really illegal, then why should we have been allowed to build in the first place?" protests Gong. "The real problem is discrepancy in the government's plans."
All land in China is designated as either rural or urban. Rural land is technically owned collectively, and land-use rights cannot be sold or rented to outsiders. But in practice, village committees have often struck informal deals with people wishing to use their land—from artists to large-scale developers—to bring money into communities with few other economic opportunities. And for a long time, the central government has looked the other way. No longer, it seems.
Since becoming president in March, Xi Jinping has put renewed emphasis on the decade-old official policy of curbing the conversion of agricultural land to preserve at least 1.8 billion mu (about 300 million acres) of farmland to protect China's food security. That has left people like Gong, who years ago paid to build a studio on land for which he has no formal contract or property deed, in uncomfortable legal limbo. "Myself and other artists are worried. We don't know if the status quo will continue—or if our actions will be declared legal or still illegal and our studios demolished."
Li Ping, an attorney in the Beijing office of Landesa, an international land-rights nongovernmental organization, explains that, "Under existing Chinese law, which is extremely bad, rural communities and farmers cannot grant usage rights or construction rights to non-villagers for commercial development." While many people have improvised deals without incident in the past, such deals are now coming under stricter scrutiny, especially in the vicinity of Beijing. "In this particular case, the rural community and farmers ignored the rules under the misleading notion that 'this is our land and we can do what we want,'" says Li.
What happens next is unclear. "In terms of how to resolve this, the city government is after all responsible for monitoring and enforcing laws, which they failed to do," he says. In other words, the farmers, the artists, and the local government all share some responsibility for the current confusion.
Tang Jianying, another painter who has built a studio in Songzhuang, hopes the local government's show of force is only temporary. "I don't think the whole artist zone will be destroyed, because the local government still wants the zone" for economic development. "But they also need to show their commitment to the new [central government] policy, so they had to destroy some studios."
Whatever happens next in Songzhuang, the case illustrates the painful process of converting from informal dealmaking to piecemeal rule of law. What seems possible one day can de deemed unacceptable in China the next.
Before it's here, it's on the Bloomberg Terminal.
LEARN MORE