China's Producer Prices Extend Longest Slump Since 1990s
Bloomberg News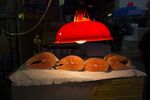 China's producer prices, a measure of the cost of goods as they leave the factory, extended the longest slide since the 1990s in December, adding to evidence that the world's second-largest economy weakened last month.
The producer-price index fell 1.4 percent from a year before, the 22nd straight drop, and consumer-price gains trailed estimates at 2.5 percent, government reports showed in Beijing. Today's releases followed declines in gauges of manufacturing and services based on surveys of purchasing managers.
China's slowdown poses a challenge for President Xi Jinping's government as policy makers attempt to rein in credit expansion that has sparked concern at a buildup of bad loans. Applying stimulus would escalate the danger of excess leverage, while inaction boosts the odds of gross domestic product growth sinking closer to the official "bottom line" of 7 percent.
"Producer-price deflation means manufacturing is still facing lots of challenges," said Shen Jianguang, chief Asia economist at Mizuho Securities Asia Ltd. in Hong Kong, who formerly worked at the European Central Bank and International Monetary Fund. With manufacturers already burdened by higher interest rates, more monetary tightening wouldn't be a good choice, Shen said.
The Shanghai Composite Index fell 0.8 percent to a five-month low, reversing an earlier gain of as much as 0.6 percent after Great Wall Motor Co., a maker of sport-utility vehicles, forecast slowing sales growth. The gauge has dropped 4.2 percent this year, extending a 2013 decline of almost 7 percent spurred by concern that slowing growth will curb profits.
Growth Slipping
The yuan fell the most in more than two months after the central bank lowered its daily fixing. The Chinese currency declined 0.06 percent to 6.0549 per U.S. dollar as of 3:15 p.m. in Shanghai, China Foreign Exchange Trade System prices show.
China's ruling Communist Party is trying to shift the investment-driven economy more toward consumer demand while maintaining growth at what it says is a "reasonable" pace to sustain employment.
The economy probably grew 7.6 percent in 2013, the State Council said last month. That would tie 1999's pace as the lowest since 1990 and be just above the 7.5 percent growth goal for the year. Analysts surveyed by Bloomberg News last month see a 7.4 percent expansion in 2014.
Favorable Environment
Policy makers are focusing on controlling financial risks and reining in debt. The broadest measure of new credit probably fell by a record $154 billion in the second half of 2013, according to economists' estimates and data compiled by Bloomberg ahead of figures due from the central bank in coming days.
Leaders pledged last month after an annual economic work conference to "keep prices stable to provide a favorable environment for reforms and structural adjustment," according to the official Xinhua News Agency.
"The fall in headline CPI inflation will be welcomed by monetary policy makers," said Louis Kuijs, chief China economist at Royal Bank of Scotland Plc in Hong Kong. "It confirms that, despite a pick up earlier in 2013, inflation is not an issue." Kuijs says he estimates price gains this year will remain "comfortably below" the government's 3.5 percent goal for 2013.
The CPI rose 2.6 percent in 2013 and the median estimate of 45 analysts surveyed by Bloomberg is for a 2014 increase of 3.1 percent.
Pork Supplies
The moderation in December inflation was helped by warmer weather and the release of pork supplies from reserves, according to Haitong Securities Co. Food prices rose 4.1 percent from a year earlier, the least since May, today's report from the National Bureau of Statistics showed. Services prices increased 3.3 percent, the same pace as November, which was the biggest gain since August 2011.
The drop in producer prices was the same pace as November's and compared with median estimate of 34 economists for a 1.3 percent slide. It marked the longest stretch of declines since a 1997-99 streak.
Manufacturing overcapacity in some industries is exacerbating declines in producer prices. Companies such as Xi'an Shaangu Power Co. have been told to halt some construction as the government seeks to rein in the steel industry.
"A lot of the producer prices are falling partly because upstream oil prices and steel prices are falling as well, the iron ore price has come off," Stephen Green, head of Greater China research at Standard Chartered Plc in Hong Kong, said in a Bloomberg Television interview. "The overall numbers tell us this is an economy which is just about growing around potential but it's not growing above potential."
The release of December export and import numbers tomorrow will give a broader picture of demand. The statistics bureau on Jan. 20 will publish data on fourth-quarter and full-year GDP, January-December fixed-asset investment, and December industrial production and retail sales.
— With assistance by Xiaoqing Pi
Before it's here, it's on the Bloomberg Terminal.
LEARN MORE