A Franchisor Sues the U.S. Labor Department Over Volunteer Workers
By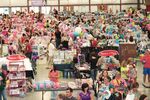 Rhea Lana Riner, the Arkansas franchisor who has tangled publicly with regulators over her use of volunteers to help run her children's consignment business, has turned the tables on the government. She sued the U.S. Department of Labor on Monday, alleging that the department harmed her business and acted arbitrarily last year when it classified her volunteers as employees under the Fair Labor Standards Act.
The DOL's actions could cripple Riner's business and the "entire consignment industry," the lawsuit alleges. It was filed in federal court for the District of Columbia by Cause of Action, a legal group founded in 2011 to support limited government. It challenges the Labor Department's policy of banning for-profit enterprises from using volunteer labor,  and it asks the court to block the DOL from further investigating or collecting penalties from Rhea Lana's. It also asks for attorney's fees but does not request a specific monetary award.
As I wrote last summer, the U.S. Labor Department opened an investigation into Rhea Lana's volunteer policy in January 2013, after the Arkansas Department of Labor took a similar action. In August 2013, the feds informed the company that it was in violation of minimum wage laws for not fairly compensating its volunteers—mostly stay-at-home mothers and retired grandmothers who help staff Rhea Lana's mammoth consignment sales in Riner's hometown of Conway, Ark., and around the country through her franchisees. In exchange for their work, volunteers are given an opportunity to shop early at the sales, snagging the best used toys, clothes, and baby gear for themselves.
Although the government did not penalize the company, it informed the volunteers that they could bring suit for back wages. None have so far, but "the threat [of litigation for back wages] is out there, and the threat has had a chilling impact on her and her business," says Reed Rubinstein, a lawyer at Dinsmore & Shohl who serves as counsel to Cause of Action. Specifically, the lawsuit says the company—which started in Riner's living room in 1997 and now has 63 franchisees nationwide—has suffered a blow to its "business reputation and goodwill." It cites the loss of news coverage by a local media outlet that covered Rhea Lana sales before the controversy, as well as wariness on the part of potential buyers to shell out for new franchises because of the Labor Department's actions.
Rhea Lana's suit comes as other so-called "sharing economy" companies test the limits of state and federal laws. It may illustrate the need for updated regulation to accommodate new business models that allow homeowners to rent rooms and drivers to share their cars.
Rubinstein says the Labor Department is wrong to pursue a blanket ban on volunteers at for-profit companies. Instead, it should look at companies individually and apply tests established in recent court cases to determine whether someone should be considered an employee, he says. Those tests emphasize economic realities, including things like an individual's "permanence and durability of employment" and the degree of skill required to perform the work. "The essence of being a volunteer is that you do it because you want to," he says. "Nobody is conscripted to volunteer."
The Department of Labor has 60 days to answer the lawsuit or seek dismissal. A spokeswoman said in an e-mail Jan. 7 that the agency "is not aware of any complaint filed by Rhea Lana's, Inc. against the department. However, we will review any complaints filed against us, and will respond accordingly."
The nonprofit Cause of Action organization that filed the suit on Riner's behalf has also sued the U.S. Consumer Product Safety Commission on behalf of Craig Zucker, who invented Buckyballs, and it has taken up the causes of several additional businesses it says are being threatened by government overreach and excessive regulation.
The group's executive director, attorney Daniel Z. Epstein, worked on Representative Darrell Issa's (R-Calif.) government oversight committee, investigating now-defunct ACORN (Association of Community Organizations for Reform Now), the Service Employees International Union, and the National Labor Relations Board. Prior to that, Epstein was an associate in legal reform at the Koch Foundation, working together with Koch Industries' assistant general counsel. Billionaire brothers Charles and David Koch are heavily involved in funding conservative political causes on a national level.
Before it's here, it's on the Bloomberg Terminal.
LEARN MORE