The Next Stop on This Bronx-Bound D Train Is Smuggler's Gulch
by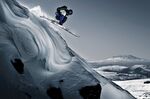 New York has more skiable acreage than either New Hampshire or Vermont? GET OUTTA TOWN.
That's what it says on the NYC subway poster, part of an ad campaign paid for by the Empire State Development Corporation and joined by the Metropolitan Transportation Authority.
No way, thought this born-and-bred Vermonter (who might have a tiny chip on his shoulder about his tiny state). So Loot called the Empire State folks. Turns out Vermont has more downhill skiable acreage than New York (6,560 to 6,050), while New York has many more miles of cross-country ski trails (2,400 to 880).
New York does sound like a cross-country paradise. And downhill? Our next call was to Frank Lo, an MIT graduate and founder of www.mountainvertical.com, which compiles information on downhill-ski resorts across the U.S. from satellite photos, the Geological Survey and other sources. Lo filled in the general, nationwide picture for us.
"The most commonly cited metrics are skiable acreage and vertical," Lo says, referring to resorts' claims about the distance and height and of their trails. "They can be incredibly misleading. Ski mountains will count non-skiable things like the peak of the mountain down to the pond below the parking lot." And forget the number of trails, he says. "They're the most contrived numbers ever. Eight distinct runs will be reported as three times that amount."
Consider quality, not just quantity. "When there are crowds everywhere, it's not a great experience," Lo says. Vermont's Killington "has a wide-open beginner trail called Snowshed, but locals [jocularly] call it Bloodshed, because there are so many people packed onto one trail running into each other."
But quality comes at a price -- skiing in Vermont is generally more expensive and, for New Yorkers, can prove more schlep than schuss. Take Vermont's three biggest ski mountains, by Lo's reckoning, Killington, Stowe and Sugarbush, and New York's three biggest, Whiteface, Gore Mountain and Windham Mountain. The Vermont weekday tickets average $87; New York's, $68.
If you want to get out of town but stay on budget, New York is the ticket. For the "most interesting terrain out there," Lo picks Vermont, "places like Jay Peak , which is known for its glade skiing, Stowe or Sugarbush ." Those are big mountains, he says, but "a lot of the big mountains have mid-mountain lifts. So a lot of people stay up at the top and never go down to the bottom, where the crowds bottleneck," as they can at New York's smaller resorts, which don't have mid-mountain lifts.
Everything's relative, as somebody said. Those 6,500 skiable acres in Vermont? The largest resort in North America, Canada's Whistler, way out west in British Columbia, has more than 8,000, all by itself.
Bit of a schlep.
Before it's here, it's on the Bloomberg Terminal.
LEARN MORE