Polar Vortex Airline Damage by the Numbers
by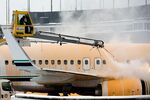 Nobody wins when it's 15 below zero, except maybe baristas and bartenders.
Airlines, of course, lose big. After a snowstorm and bitter cold blasted much of the Midwest and Northeast late last week, major U.S. carriers were slowly transitioning back to normal operations late Tuesday—building a backlog of rested crews and finally getting all their planes in the proper cities. Meanwhile, customer service teams were stuck on full-throttle, trying to clear a backlog of stranded passengers and appease them with apologies and perks.
JetBlue, for example, which suspended operations in New York and Boston late Monday, said it is adding extra flights to accommodate passengers. The carrier has drawn up an elaborate compensation plan with various benefits doled out based on the number of cancellations a passenger suffered and whether he or she is a member of the airline's loyalty program. Travelers who suffered four canceled JetBlue flights are eligible for a round-trip ticket, regardless of whether they are in the club.
JetBlue also pledged to at least consider reimbursing some out-of-pocket expenses for stranded travelers (read: terminal beers and gossip magazines).
Although grounding some planes was an unusual step, JetBlue's performance wasn't an anomaly. All the major U.S. carriers canceled hundreds of flights and Southwest ended up scrapping even more routes.
 
Here's a look at cancellations by carrier over the last several days:
 


Meanwhile, the cancellations, like so many flights, originated in Chicago where arctic temperatures froze fuel pumps and forced mechanics and bag slingers to cut outdoor work into 15-minute shifts. Here's a look at cancellations by departure airport:
 

Before it's here, it's on the Bloomberg Terminal.
LEARN MORE