Petraeus Scandal's Jill Kelley Becomes a Privacy Champion
By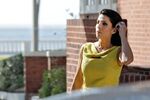 After living through one of the more humiliating scandals in recent memory, Jill Kelley has embraced a new role as a counterweight to the ever-expanding ambitions of the National Security Agency. Think of her as the Edward Snowden of Florida.
Previously, Kelley was known as a Tampa socialite who entertained military leaders at her capacious home near MacDill Air Force Base and the woman who inadvertently ended the career of former CIA Director David Petraeus. More than a year ago, she reported receiving threatening anonymous e-mails to the FBI. The messages, it turned out, came from Paula Broadwell, a West Point graduate and author of a Petraeus biography who was having an affair with the general. Broadwell apparently viewed Kelley as a rival for his attention.
That should probably have been the last anyone heard of it. Instead, FBI investigators decided to dive into Kelley's e-mail account, uncovering hundreds of messages she'd exchanged with the U.S.'s top commander in Afghanistan, General John Allen. A series of embarrassing leaks followed, including hints to the press that the e-mails were more than a little unprofessional. The tabloids made Kelley and her family a near-daily feature of their pages, charting their financial problems and the exploits of Kelley's twin sister.
Now, more than a year later, Kelley has filed a lawsuit against the government in search of damages and an apology. "People don't understand what I went through," she told the New York Times. "I am still suffering the consequences from the bad acts and false and untrue headlines. They created a sideshow at my expense."
Although she seems an unlikely crusader for privacy rights, Kelley has a point. As she explained to Bloomberg Businessweek in April 2013, privacy laws are too old and weak to address communications in a post-Steve Jobs world in which every citizen on earth will soon be walking around clutching an electronic device. "The Electronic Communications Privacy Act was written with a loophole that allows government to read e-mail over 180 days old without a warrant," Kelley told me. "Public e-mail servers receive thousands of government requests a month for e-mail. Your e-mail may be read as you are reading this."
Since then, we've learned just how right Kelley was. The unfortunate part may be that she's too flawed a messenger to be effective. As if to prove the point, she told the Times: "Just because you're stalked by a mistress doesn't mean you are one. It's not contagious."
Before it's here, it's on the Bloomberg Terminal.
LEARN MORE