In France, Kidnapping the Boss Usually Pays Off
by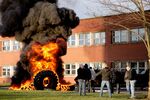 Maurice Taylor, chairman of U.S. tire maker Titan International, didn't mince words when he learned that two Goodyear Tire & Rubber executives were being held hostage by workers in France this week. "They're crazy," he told French radio station RTL before police intervened to free the executives on Tuesday. "I mean, come on! Get real! There's no reason to do that!"
In fact, those workers are far from crazy. "Bossnapping" and similar tactics have turned out to be pretty effective negotiating tools for French labor unions. Workers who have participated in past hostage-taking incidents haven't been prosecuted, and most have won sizable concessions from employers.
After four executives of Caterpillar were held hostage in 2009 for 24 hours to protest layoffs in Grenoble, the company upped its total severance package from €48.5 million to €50 million, amounting to an average €80,000 ($108,000) per worker. The same year, appliance maker Ariston agreed to severance packages of up to €90,000 for workers at a factory in Brittany who protested planned layoffs by locking the manager out of the building.
In still another case—among a spate of 10 French "bossnappings" in 2009—the manager of a 3M factory in the town of Pithiviers was taken hostage in a dispute over severance pay. The workers served him a takeout meal of mussels and French fries before deciding to let him go and pursue their grievances in court. An appeals court ruled in their favor last July, ordering 3M to pay €800,000 to 110 laid-off workers.
Former President Nicolas Sarkozy denounced the hostage-taking, but public opinion polls showed that many French sympathized with the protesters and no charges have ever been filed against them. Nor did the government take action against employees of a bankrupt auto-parts factory in central France who in 2009 booby-trapped the building and threatened to blow it up. Government officials helped negotiate a settlement in which workers received a severance package of about €30,000.
In this week's Goodyear hostage-taking, union members released two executives who had been held for two days after police intervened. But the CGT union said it now plans to occupy the plant in the northern French town of Amiens. "The show is only just beginning," CGT leader Mickael Wamen said at a press conference today.
Ohio-based Goodyear announced a year ago that it would close the Amiens factory after five years of talks with the CGT had failed to produce an agreement. Titan International's Taylor had considered investing in part of the facility but dropped that plan in 2012 after a highly-publicized spat with Industry Minister Arnaud Montebourg.
The Goodyear factory's planned closure sparked violent protests last March that left 19 police officers injured. Workers and their families also have demonstrated at Goodyear's French headquarters in the Paris suburbs.
Before it's here, it's on the Bloomberg Terminal.
LEARN MORE