business
As Movie-Making Costs Fall, Hong Kong's Film Industry Hopes for Revival
By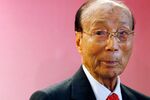 Run Run Shaw wasn't interested in slowing down. Decade after decade, the Hong Kong-based tycoon dominated the world of entertainment in the center of the Chinese entertainment industry, first at the Shaw Brothers movie studio and then at TVB, the city's premier television network. Only when he was 104 years old (104 years old!) did he finally retire as TVB chairman.
Shaw died this morning in Hong Kong. Among those eulogizing him was the official China Daily newspaper. "Shaw's name is deeply etched across Hong Kong's vibrant media industry," the China Daily reported.  His movie studio and television network "shaped the golden era of the city's film and TV production."
He passed away at what might be a turning point for the film industry he did so much to help build. By the early 1990s, Hong Kong was up there with Hollywood and Bollywood as a hub for the global movie business, and it was the premier place for making Chinese-language entertainment. In 1993, Hong Kong's studios released 238 movies.
Soon after, though, the industry started shrinking. Local moviegoers got bored with stale plots and second-rate special effects. The easy availability of counterfeit videos didn't help either. By the end of the '90s, Hong Kong's movie studios made less than 100 movies a year.
Things haven't gotten much better, despite efforts by the mainland and Hong Kong governments to bolster the industry. (For instance, although China limits the number of foreign-made movies allowed into the country, films from Hong Kong are exempt.) Last year only 43 movies were made in Hong Kong, according to Wellington Fung, secretary general of the Hong Kong Film Development Council. Even if we stretch the definition of a local movie to include a co-production made with funding from both Hong Kong and the mainland, he adds, the total reaches only around 60 titles.
There is reason to be hopeful, says Fung. Thanks to China's rapid economic growth, wages and other production costs are rising sharply across the border. Ten years ago, when the two governments first moved to help the local industry, production costs in mainland China were almost half those in Hong Kong, according to Fung. "But now," he adds, filming in the mainland is costlier than filming in Hong Kong. "So it's no longer an economic consideration when they go to mainland," he says. As a result, Fung predicts  a gradual increase in the number of Hong Kong-made movies.
That won't be enough to return the city's industry to its glory days, but the long decline might finally end.
Before it's here, it's on the Bloomberg Terminal.
LEARN MORE