Heavy China Smog Prompts Warnings Against Outdoor Activity
Bloomberg News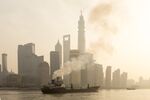 China's government warned people in north and central parts of the country to stay indoors today as heavy smog blanketed the region.
The level of PM2.5, fine air particulates that pose the greatest health risk, was as much as 287 micrograms per cubic meter at 4 p.m. in Shijiazhuang in the northern province of Hebei, neighboring Beijing, according to data from the China National Environmental Monitoring Center. That level of smog, the highest on a government scale from one to six, triggers warnings for people to avoid outdoor activities.
The smog levels today step up pressure on the government to make good on pledges to reduce coal consumption, shut steel plants and control the number of cars on the road to ease pollution. A growing number of Chinese cities have announced emergency measures to fight smog amid rising social unrest over the health effects of a spoiled environment.
Levels of PM2.5 hit 612 in Jinan today before easing to 346 in the afternoon, according to the government. The World Health Organization recommends 24-hour exposure to PM2.5 concentrations no higher than 25 micrograms per cubic meter.
The southern Chinese city of Guangzhou said it will take emergency measures at times of high pollution, including cutting factory emissions and pulling 20 percent of government vehicles off the road, the state-run China Daily reported today, citing unidentified people with the local environmental protection authority.
The city has suffered from prolonged smog since Jan. 1, the newspaper said. As of 4 p.m., the PM2.5 level in Guangzhou was 113 micrograms per cubic meter and the air quality index was 112, signaling light pollution, according to the China National Environmental Monitoring Center.
The concentration of PM2.5 was 34 micrograms per cubic meter at 11 a.m. near Tiananmen Square in Beijing, compared with an average of 143 over the past 24 hours, the Beijing Municipal Environmental Monitoring Center said on its website.
— With assistance by Feifei Shen
Before it's here, it's on the Bloomberg Terminal.
LEARN MORE