Banks Leading Bond Sales Surge in Europe as Credit Risk Declines
Katie Linsell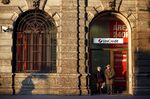 UniCredit SpA and BNP Paribas SA were among banks fueling a surge of bond issuance in Europe as the cost of insuring debt against losses fell to the lowest in almost four years.
Italy's biggest bank raised 1.25 billion euros ($1.7 billion) from seven-year bonds while France's largest lender sold notes due January 2021. The Markit iTraxx Senior Financial index of credit-default swaps on 25 European banks and insurers fell one basis point to 81 basis points, the lowest since March 2010.
Svenska Handelsbanken AB, Abbey National Treasury Services Plc and Lloyds Banking Group Plc were also in the market with sales today poised to total about 17 billion euros, according to data compiled by Bloomberg. The average yield on euro bonds from financial companies dropped 3.5 basis points to 2.09 percent, the lowest in more than a month, Bank of America Merrill Lynch index data show.
"Bond supply has started in earnest in 2014 in financials," said Jeroen van den Broek, a strategist at ING Bank NV in Amsterdam. "Borrowers know that rates are low at the moment and there's a lot of demand out there. It's almost a perfect scenario so what's the upside in waiting?"
UniCredit's notes were priced to yield 170 basis points more than the benchmark mid-swap rate. The bank is raising the debt because of "the strong market backdrop," Waleed El-Amir, UniCredit's Milan-based head of strategic funding, said in an e-mailed statement. "Funds are for general corporate purposes."
Petrobras Bonds
Petroleo Brasileiro SA led bond sales from non-financial companies. Latin America's biggest oil producer by market value issued 3.1 billion euros of notes maturing in four, seven, and 11 years as well as 600 million pounds ($986 million) of 20-year bonds.
"Today is the first proper full day of the year and the environment should be good for issuance," said Nick Burns, a credit strategist at Deutsche Bank AG in London. "Credit spreads have been tightening and the tone has been constructive in the first few days of this year."
The extra yield investors demand to hold investment-grade corporate bonds in euros instead of government debt fell three basis points in the past week to 114 basis points, the narrowest spread since May 30, according to Bank of America Merrill Lynch index data.
Enel Hybrids
Enel SpA, Italy's largest power utility, is marketing Europe's first hybrid notes of the year after selling $2.3 billion of the securities combining elements of debt and equity in September. The Rome-based utility is issuing the bonds in euros and pounds, according to a person familiar with the matter.
Enel's board of directors authorized a plan last year to sell as much as $6.5 billion of hybrid bonds by the end of 2014. The notes allow companies to borrow without putting their credit grade at risk because ratings firms typically count 50 percent of the securities as equity, reducing their view of a company's indebtedness.
Electricite de France SA, Europe's biggest power generator, is meeting global investors for a sale of hybrid bonds in different currencies, according to people familiar with the plan.
"We can expect a good amount of supply of hybrids this year as a normal course of business from repeat issuers," said Jonathan Brown, head of European fixed income syndicate, at Barclays Plc in London. "Investors have the same appetite they had for the product last year. That could soften when interest rates rise, so it makes more sense to issue while you can."
Before it's here, it's on the Bloomberg Terminal.
LEARN MORE