Auburn Loss Ends Seven Years of SEC Football Dominance
by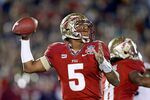 It's been a humbling week for Southeastern Conference college football. Last night, the Atlantic Coast Conference ended the SEC's seven-year run of national championships as Florida State University beat Auburn University in an up-and-down BCS Championship game at the Rose Bowl. Four days earlier, the University of Oklahoma humbled Nick Saban's University of Alabama team in the Sugar Bowl. The sound you hear this morning is SEC honks not chanting anything. Well, I bet the fool at Bloomberg Businessweek who wrote "Why the SEC Dominates College Football, in Six Charts" feels stupid now.
There are extenuating factors. Auburn was 13 seconds away from victory last night, not to mention that it was at the game in the first place, which is more than any school from, say, the Big Ten can claim. And it's worth noting that Florida State coach Jimbo Fisher plied his trade for seven seasons as an assistant at Louisiana State University (SEC) before joining Florida State in 2007.
Looking back at those six charts now, however, it's noteworthy that most of the sources of the SEC's strength have more to do with the region than the organization. It's the "SE" part that matters most, not the "C." The money and the coaches flow from the passion of the fans. On that score, Florida State's victory upholds the trend (and my argument). The last eight national titles go Florida, LSU, Florida, Alabama, Auburn, Alabama, Alabama, Florida State. Here's a map of those five schools:

Editor's note: Ira Boudway is a graduate of Williams College, where the football team was 2-6 in the New England Small College Athletic Conference (NESCAC) this season.
Before it's here, it's on the Bloomberg Terminal.
LEARN MORE