Apple Users Spent $10 Billion on Apps in 2013
By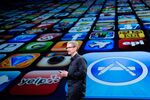 Apple offered one of its periodic check-ins on activity in the App Store Tuesday, and announced that its users spent $10 billion last year in the App Store, with $1 billion coming in December alone.
This is a press release, not a U.S. Securities and Exchange Commission filing, and Apple seems to be consciously avoiding creation of a reliable measure of App Store performance. (Exactly a year ago, the company also released App Store numbers, but focused on total number of downloads.) The number is rounded and doesn't include tax considerations. The main point is for people to say: "Wow, that's a lot of money!"
 
And it is. If App Store revenues were the revenues of a publicly traded company, that company would rank No. 238, just between Public Service Enterprise Group, a public utility holding company, and Sherwin-Williams, the paint powerhouse. Here's how it stacks up against companies selling other consumer products:

Another way to look at it: The total money spent on online advertising—the prize that has been driving much of the action in Silicon Valley for the last several years—was $102 billion in 2013. Ten App Store-sized businesses would match it.
The money doesn't all accrue to Apple. Developers making the apps take home 70 percent of the revenue, and Apple likes to make a big deal out of how much money others can make in the App Store. The company says developers have made $15 billion to date.
Apple's cut in 2013 was $3 billion, which puts it in the same neighborhood as the overall revenue of some notable tech companies, both those that sell software directly and those that rely on revenue from advertising. Salesforce.com and Adobe, for example, earned around $4 billion; Yahoo! earned closer to $5 billion.
What's striking is that this money doesn't mean much to Apple—it's only about 1.5 percent of annual revenue. According to its latest regulatory filings, the company made $91 billion from iPhone sales in the 12 months ending in September. The App Store's main purpose is just to drive those sales higher. Any money the company gets from it is gravy.
Before it's here, it's on the Bloomberg Terminal.
LEARN MORE