Puerto Rico Testing Investors Following Worst Loss
Michelle Kaske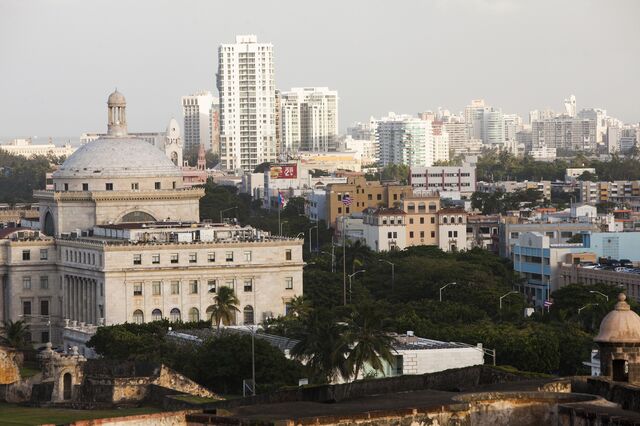 Puerto Rico, with $70 billion in government and agency debt and its economy contracting, faces the first test of investors' willingness to buy its long-term securities with a plan to offer bonds following a thwarted 2013 offering.
The U.S. commonwealth, with a credit rating on the brink of junk and a murder rate double Chicago's, plans to issue an undetermined amount of long-term debt this month or in February, according to Alix Anfang, a spokeswoman for the Government Development Bank in New York.
Soaring yields sandbagged a plan in the fourth quarter to sell as much as $1.2 billion of debt backed by sales taxes, called Cofina bonds after a Spanish acronym. While Governor Alejandro Garcia Padilla says the territory and its agencies will repay their obligations on time and in full, an economy that contracted in six of the past seven years casts doubt on that promise. Investors last week were demanding record yields to buy Puerto Rico debt.
"The Cofina deal is one of those very crucial elements that they need to do to retain their credit standing," said James Dearborn, head of munis in Boston at Columbia Management Investment Advisers, which oversees $30 billion of munis and owns Puerto Rican debt.
No Bankruptcy
Like Dearborn, investors far beyond the Caribbean island are watching Puerto Rico's financial health. More than three-quarters of U.S. muni mutual funds hold its securities, which are tax-free nationwide. While the commonwealth isn't eligible to file for bankruptcy, a default on its bonds could dwarf Detroit's record $18 billion bid for Chapter 9 protection in July.
The island's debt lost 20.5 percent last year, its worst year since at least 1999 and about eight times more than the 2.6 percent loss in the $3.7 trillion municipal market, Standard & Poor's data show. Yields, which move inversely to prices, may increase further, said Robert Amodeo at Western Asset Management Co. in New York.
"It's the weak economy," said Amodeo, who helps manage $30 billion of munis, including debt from the island.
Puerto Rico sales-tax bonds maturing August 2039 and rated four steps below benchmark munis traded Dec. 30 with an average yield of 9.13 percent, a record high and 5.44 percentage points above top-rated munis, Bloomberg data show. That's the biggest gap since the debt first sold in June 2009.
'Continued Progress'
"In 2014, we will continue to focus on the factors that are under our control and strive to make continued progress in strengthening Puerto Rico's fiscal situation and liquidity," Jose Pagan, interim president of the Government Development Bank, said in an e-mail.
Yet the island, where Census data show the median household income in 2012 was $19,515, less than half of the U.S. figure, has fewer people to repay its liabilities. As residents have migrated to the mainland, the population dropped almost 1 percent in 2013 to 3.6 million and has declined each year since 2005, according to Census data.
Crime preys on those remaining. Puerto Rico had 859 murders in 2013 through Dec. 15, a 7.4 percent decline from 2012, according to the newspaper Caribbean Business. Even with the drop, the homicide rate is more than double Chicago's, which had the most killings among large U.S. cities last year.
Index Drop
An index that tracks the island's economic activity contracted in November by 5.7 percent compared with the same month in 2012, according to the Government Development Bank.
Moody's Investors Service Dec. 11 threatened to cut Puerto Rico's general-obligation bonds to junk within 90 days. Fitch Ratings said it may also lower the island's general obligations to junk by June 30.
John Miller, co-head of fixed income at Nuveen Asset Management LLC in Chicago, which oversees $90 billion of munis, has kept the firm's allocation to Puerto Rico at about 1.25 percent. Some Puerto Rico general obligations are trading as low as 57 cents on the dollar. If the economy improves, prices could jump by 10 cents, yet a downgrade could cause them to drop just as much, Miller said.
"It's just really difficult to get comfortable," he said.
Garcia Padilla, 42, who took office a year ago, has taken steps to maintain the island's credit rating. The governor and legislature last year boosted the retirement age for public workers and teachers, asked them to contribute more to their pensions and curbed benefits. The governor wants to end deficits in the fiscal year starting July 2015.
Job Target
Garcia Padilla aims to create 90,000 jobs by 2016 by expanding pharmaceutical and medical-device manufacturing, tourism and agriculture.
"If they are able to bring a new deal with something very very close to a balanced budget, the optimistic side of the story is maybe they could avoid a downgrade in the first half of the year," Miller said.
This week, states and cities plan to sell about $2.2 billion of long-term debt, Bloomberg data show.
Benchmark 10-year munis yield 2.99 percent, down from a three-month high of 3.05 percent on Dec. 11 and is on par with similar-maturity Treasuries.
That makes the ratio of the interest rates, a gauge of relative value, 100 percent, compared with a five-year average of 101 percent. The lower the figure, the more expensive munis are compared with federal securities.
Before it's here, it's on the Bloomberg Terminal.
LEARN MORE