Pebble Tries to Draw Smartwatch Users With Design and Apps
By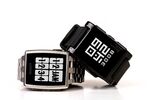 Smartwatches will play prominently at this year's International Consumer Electronics Show, but let's say you're not convinced of the inevitable ascendance of wrist-based computers. You might raise two questions: What do these things look like, and why do I need a computer on my wrist when there's one in my pocket? Eric Migicovsky, the founder of smartwatch startup Pebble, says he has the answers.
In terms of fashion, Pebble is looking backward. It turns out lots of people actually like the aesthetic of traditional watches (as the existing watch industry is well aware), so the company announced on Monday that it would begin selling a version of its smartwatch designed to look dumb. A selling point of the Pebble Steel is that the faux-analog watch face looks more convincing against its matte surface, says Migicovsky, especially with the steel and leather bands.
Design may help Migicovsky's company stand out somewhat among the other agitators marching in the CES wrist-volution, but the most important questions are related to function. At this point, the hype around smartwatches has ignored the real possibility that they are still solutions in search of problems. Companies building smartwatches have to do a better job proving they're good for something, says J.P. Gownder, an analyst with Forrester Research.
"The first wave is to come out with the technology at all costs but don't have the business model or ecosystem to support it," Gownder says. "One of the themes will be companies filling that out."
That makes the second part of Pebble's announcement more significant than cleverly nostalgic design. At the end of January, around the same time the Steel begins shipping, the company will launch an app store for its smartwatch. There are already apps for Pebble—some 3,000 developers have signed up for its software kit. The idea is to make them easier to find.
The company has also lined up several big partners. An app from Yelp displays reviews of nearby restaurants: Shake your wrist and it will pick a nearby eatery at random to display to you, for those who always wanted Urbanspoon. A Foursquare app uses the phone's GPS, allowing a user to check in by tapping the watch; a Pandora app lets a user to change the station on her phone or rate songs on the app; an ESPN app displays sports scores.
For now, all the apps are free. The store resides within Pebble's existing smartphone apps, which could prove tricky considering that Apple and Google take a 30 percent fee when developers sell digital content through their apps. Migicovsky says he believes Pebble will be able to avoid paying this commission.
He's also confident that the shelves in Pebble's store will be plenty full by the end of the year. "I think what's happening in 2014 is brands looking at wearables and bringing portions of their smartphone apps to watches," Migicovsky says. "We're fielding a lot of calls."
Before it's here, it's on the Bloomberg Terminal.
LEARN MORE