Osborne Says U.K. Welfare Cuts Needed If Taxes Are to Fall
Svenja O'Donnell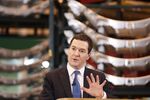 U.K. Chancellor of the Exchequer George Osborne today held out the possibility of tax cuts funded through billions of pounds of additional welfare savings, sparking a rift with his Liberal Democrat coalition partners.
In a speech in Birmingham, central England, Osborne said that while the British economy is "on the rise," 25 billion pounds ($41 billion) of government spending cuts will be needed after the 2015 election, with half of that coming from welfare. Deputy Prime Minister Nick Clegg said the Conservatives were making a "monumental mistake" by targeting the poorest.
"Welfare cannot be protected from further substantial cuts," Osborne said. He described 2014 as the year of "hard truths" and said "government is going to have to be permanently smaller and so too is our welfare system."
With 16 months to go before the election, party lines are being hardened. Clegg, the leader of the Liberal Democrats, told reporters the Conservatives were driven by an "ideological" impulse to "remorselessly pare back the state" and renewed his call for a "mansion tax" on the most expensive homes.
"It's not only unrealistic, it's unfair and it reveals something about their motives that I disagree with," Clegg said of the welfare cuts envisaged by Osborne. "The Conservative Party seems to me to be out on an ideological limb to say we're not going to ask wealthier people to pay more tax."
Political Pressure
Osborne is seeking to put pressure on the opposition Labour Party to match his plans or say how it would cut borrowing. Ed Balls, who speaks for Labour on economic affairs, said that, if elected, the party "will get the deficit down in a fair way, not give tax cuts to millionaires," a reference to the decision to reduce the top rate of income tax to 45 percent from 50 percent last year.
While unemployment has fallen and the recovery taken hold, the Tories are still trailing Labour in the polls, with the latter arguing the rising cost of living is eroding the benefits of the faster growth. Prime Minister David Cameron told the BBC yesterday that any future tax cuts would be targeted "at the lowest-paid."
In order to avoid faster cuts to government departments, welfare savings of 12 billion pounds will be needed in the first two years of the next parliament, Osborne said today. The Institute for Fiscal Studies estimates that without squeezing welfare, the amount spent on public services would have to fall to its lowest share of national income since 1948.
Surplus Target
In his Autumn Statement on Dec. 5, Osborne set out plans to return the budget to surplus in 2019 for the first time since 2001. He has cut welfare by more than 20 billion pounds since taking office in 2010 and is proposing to introduce a cap on 100 billion pounds of social-security spending, excluding state pensions.
"There are big underlying problems we have to fix in our economy," Osborne said. "More repairs. More cuts. More difficult decisions."
The U.K.'s fiscal watchdog last month raised its forecast for economic growth in 2014 to 2.4 percent from 1.8 percent and said government borrowing would be less than previously predicted. Bank of England Governor Mark Carney has acknowledged that the recovery has "taken hold."
Nevertheless, support from within Tory ranks has waned. A poll published two days ago found that 37 percent of voters who backed the Tories in the 2010 election no longer support the party, and half of them had defected to the anti-European Union U.K. Independence Party. That's in spite of the fact that Cameron still outpolls Labour leader Ed Miliband on personal approval and economic management, according to the survey commissioned by Conservative upper-house lawmaker Michael Ashcroft.
Osborne also said immigration needs to be reduced, as uncontrolled immigration brings pressure on public services and leads to abuses of the welfare system. The Sunday Times published a leaked Home Office paper last month suggesting Home Secretary Theresa May favors a cap on migration from the European Union of 75,000 a year.
Before it's here, it's on the Bloomberg Terminal.
LEARN MORE