More Evidence France Is the New Sick Man of Europe
By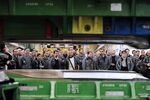 While Europe's economic recovery is slowly gaining traction, France is sliding backwards.
That's the inescapable conclusion about newly reported data on business activity, including a survey released today by Markit Economics showing that France's service-sector output contracted sharply in December, to a six-month low. An earlier report showed a steep drop in French manufacturing activity during December as well.
Those figures, along with rising French unemployment claims, suggest that France may have "slid back into recession late last year," says Markit's chief economist, Chris Williamson.
The gloom in France contrasts with encouraging news elsewhere in Europe. Although unemployment remains worrisomely high, Markit's survey shows that private-sector activity gained momentum in December across the euro zone, with expansion in manufacturing and services in crisis-hit economies such as those of Greece, Ireland, and Spain. In a separate survey, Markit reported that service growth in Britain cooled during December but that the sector is still expanding.
Markit's surveys, known collectively as the PMI, or Purchasing Managers' Index, are considered among the most reliable forecasts of economic activity, because they are based on data collected from companies about their order books, purchasing plans, and staffing levels.
Among the Continent's four biggest economies, France is the only one where businesses reported declines in output and in new orders. "France now stands out as the sick man of Europe, because so many other countries have moved ahead," Holger Schmieding, chief economist at Berenberg Bank in London, tells Bloomberg Television. "What France needs is labor-market reform—structural reform."
Italy and Spain are seeing an improvement in export sales, in part because Germany is starting to import more of their goods. France's trade deficit, though, continues to widen, as high payroll taxes and inflexible labor rules price French-made goods out of the market. Many employers surveyed by Markit said they weren't replacing workers who left voluntarily. "Competitiveness is a key issue which the French manufacturing sector needs to address, to catch up with its peers," Williamson says.
Before it's here, it's on the Bloomberg Terminal.
LEARN MORE