South Sudan Talks May Start Today as Kiir Rejects Power Sharing
William Davison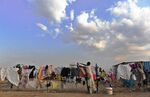 South Sudanese government officials and rebel representatives may start talks in the Ethiopian capital today even as President Salva Kiir rejected the possibility of sharing power with his former deputy Riek Machar.
Discussions are ongoing via mediators in Addis Ababa and direct talks could begin tonight, Yohanis Musa Pouk, a spokesman for rebel leader Machar, said in a phone interview.
Conflict broke out on Dec. 15 after Kiir accused Machar of attempting a coup, pitting members of the President's ethnic Dinka community against Machar's Nuer group. "Thousands" of people have died and about 200,000 have been displaced, according to United Nations estimates. Machar has been trying to incite ethnic strife and should not be given power, Kiir said in an interview with Al Jazeera today.
"Do you reward criminals for having killed people?" Kiir said in the interview. Machar "committed a crime and should be held accountable," he said.
Fighting continues in South Sudan, with rebels claiming to be advancing toward the capital, Juba. The UN urged both sides to avoid civilian casualties and donors to give aid agencies $166 million for humanitarian programs.
Efforts to mediate a truce are being led by the Inter-Governmental Authority on Development, a grouping of eight East African nations that includes Ethiopia, Kenya and Uganda. Kiir has declared an emergency in oil-rich Unity state and the Jonglei region, where rebels have seized the capitals, Bentiu and Bor.
Rebel Fighters
Former South Sudanese army commander Peter Gadet is leading an estimated 4,000 to 7,000 rebel fighters, army spokesman Philip Aguer said yesterday.
South Sudan seceded from neighboring Sudan in July 2011 and took three-quarters of the formerly united country's crude output. Exports of oil provide more than 95 percent of government revenue.
The country has sub-Saharan Africa's biggest oil reserves after Nigeria and Angola, according to BP Plc data. The landlocked country has been exporting all its crude –- about 245,000 barrels a day -- through pipelines across Sudan. The fighting has cut production to about 200,000 barrels daily.
The government delegation for peace talks is led by former Foreign Minister Nhial Deng Nhial, while ex-Governor of Unity state Taban Deng Gai heads rebel negotiators, according to Ethiopia's government.
Before it's here, it's on the Bloomberg Terminal.
LEARN MORE