Employment Growth in U.S. to ECB Rate Decision: Global Economy
Vince Golle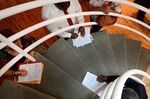 Highlighting the global economic data calendar this week is the U.S. employment report, which is projected to show the world's largest economy gained more jobs in 2013 than at any time in eight years.
Across the Atlantic, monetary officials from the European Central Bank and the U.K. convene for their first policy meetings of 2014. In Asia, central bankers in Indonesia and Korea will also gather, while China issues reports on exports and inflation. Elsewhere, the inflation rate in Brazil held above the 4.5 percent mid-point of the central bank target range for a fourth year.
U.S. EMPLOYMENT
-- Employers added 195,000 workers to payrolls in December, as companies gained confidence in the expansion, according to the median forecast of economists surveyed by Bloomberg before the Labor Department's Jan. 10 report. That would mean 2.27 million jobs were created in 2013, the most since 2005. The December jobless rate is projected to hold at 7 percent, a five-year low.
-- "The December employment report should be solid," economists at Bank of America Corp., led by Ethan Harris, said in a Jan. 3 report. "Consumer spending has accelerated and sentiment has improved, which is likely indicative of better labor market conditions," they said. "We look for notable gains in manufacturing, retail and construction jobs." They are projecting a 225,000 increase in private payrolls and a 5,000 drop in employment at government agencies.
-- "We think the elements of moderately stronger growth are in place, but politics and winter weather could cloud this picture in coming weeks," economists at Citigroup Global Markets Inc. in New York, led by Robert DiClemente, wrote in a Jan. 3 report. Congress must still address the debt ceiling, and in addition, inclement weather in early December is "expected to hold down payroll gains to 125,000 next week. The most vulnerable areas include construction, leisure and accommodation, industries that have been contributing net gains of 50,000 per month. This setback is not indicative of upbeat hiring surveys and the background of stronger second half growth that should restore job gains closer to 200,000 in coming months."
ECB POLICY MEETING
-- The European Central Bank holds its first policy meeting since Latvia became the 18th euro-area nation on Jan. 1. The Governing Council on Jan. 9 will probably keep its benchmark interest rate unchanged after President Mario Draghi signaled last week that policy makers don't see an immediate need for action. While conditional long-term loans, asset purchases and a negative deposit rate have been discussed as potential tools to ward off deflation and rekindle growth, they're currently not warranted, said Michael Schubert, an economist at Commerzbank AG in Frankfurt.
-- "The ECB sees no deflationary risks" and the "wait-and-see stance is probably related to the fact that recent economic indicators confirmed yet again the ECB's view of a gradual economic recovery," he said. "Nonetheless, at Thursday's press conference the ECB president will probably clearly accentuate the bank's readiness to act."
BOE POLICY DECISION
-- The Bank of England on Jan. 9 will leave its key interest rate at a record-low 0.5 percent, in line with Governor Mark Carney's guidance that policy makers won't consider raising borrowing costs at least until unemployment falls to 7 percent. While economists in a Bloomberg survey forecast no change this month, the threshold is nearing. The jobless rate fell to a more than four-year low of 7.4 percent in the three months through October and BOE projections show it may decline to 7 percent as early as the end of 2014.
-- "There is mounting doubt as to whether the Bank of England will keep interest rates at 0.5 percent through 2014," Howard Archer, chief U.K. economist at IHS Global Insight in London, wrote in a note to clients. His view is the central bank will hold off any tightening until 2015. The BOE "continues to stress that while the economy's improved growth performance is welcome, it is still some way from returning to normality and significant headwinds remain," he said.
CHINA TRADE
-- China's exports probably rose 5.2 percent from a year earlier in December, while consumer prices may have advanced 2.7 percent in the same period, according to surveys by Bloomberg before data due on Jan. 8 and Jan. 9, respectively.
-- "With muted inflation and the pace of GDP growth in line with China's potential, we expect the government to maintain neutral monetary and fiscal policies for the next couple of quarters while increasing efforts on structural reforms," Lu Ting and Zhi Xiaojia, Hong Kong-based economists at Bank of America Merrill Lynch, wrote in a note. "In particular, we don't think the PBOC will significantly tighten monetary policy."
INDONESIA RATES
-- Indonesia's central bank will probably keep its benchmark interest rate unchanged at the highest level since 2009 on Jan. 9, according to eight out of nine economists surveyed by Bloomberg.
-- "Bank Indonesia is likely to keep the key rate on hold," Australia & New Zealand Banking Group Ltd. economists Glenn Maguire and Devika Mehndiratta wrote in a note. "The improvement in trade balance, coupled with our expectation for inflation to head lower, tells us that BI is likely to stay on hold for the next couple of quarters."
BANK OF KOREA
-- The Bank of Korea will probably keep its benchmark interest rate at the same level since a reduction in May, all eight economists surveyed by Bloomberg predicted before a decision due Jan. 9
-- "The durability of the global recovery from Korea's perspective is strengthening," Wai Ho Leong, a Singapore-based economist at Barclays Plc, said in an e-mail. "We expect the central bank to continue to assess the effects of past stimulus measures, and to begin normalizing interest rates" in the third quarter, he said.
BRAZILIAN INFLATION
-- A report from Brazil's statistics agency on Jan. 10 may show inflation ended 2013 at 5.8 percent, marking the fourth straight year it exceeds the 4.5 percent mid-point of the central bank target range.
-- "The December number will reflect pressures from fuel, clothing and personal expenditures," Flavio Serrano, senior economist at Banco Espirito Santo de Investimento, said by phone. "Inflation remains persistent around 6 percent. There is not a lot of light at the end of the tunnel."
-- "There is no ambition or attempt to bring inflation down to 4.5 percent," Tony Volpon, head of emerging-market research for the Americas at Nomura, said by phone. "they want to keep inflation around current levels. That's the current mandate."
Before it's here, it's on the Bloomberg Terminal.
LEARN MORE