U.K. Mortgage Approvals Surge to Highest in Almost Six Years
Emma Charlton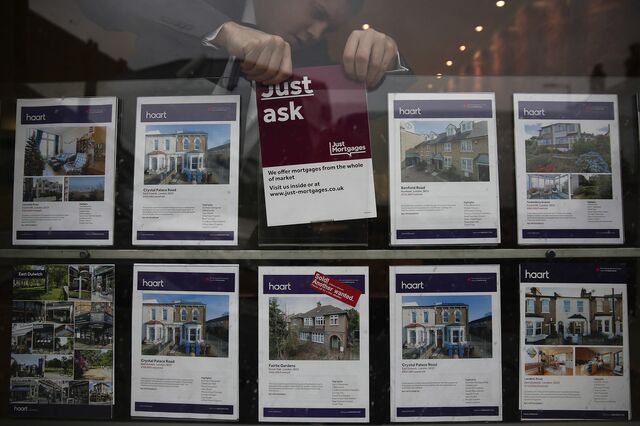 U.K. mortgage approvals rose more than economists forecast in November to the highest level in almost six years, signaling continued strength in the property market toward the end of 2013.
Lenders granted 70,758 mortgages, the most since January 2008, compared with a revised 68,029 in October, the central bank said in a report in London today. The median forecast of 15 economists in a Bloomberg News survey was for 69,700 approvals. The report also showed that business lending plunged.
House prices climbed 1.4 percent in December, capping the best year for the property market since 2006, Nationwide Building Society said today. With housing demand strengthening, the BOE said in November that it will end incentives for mortgages in its Funding for Lending credit-boosting program and focus the initiative on corporate loans.
Net mortgage lending rose by 910 million pounds ($1.5 billion) in November from October, the central bank said. Consumer credit increased 627 million pounds, including 388 million pounds on credit cards.
Markit Economics said today that its index of construction fell less than economists' forecast in December. The gauge slipped to 62.1 from 62.6 in November. Economists had projected a reading of 62.
Interest Rates
The BOE said in a separate report that the effective interest rate on outstanding mortgage loans rose by 1 basis point to 3.29 percent in November. The effective rate on new loans also increased 1 basis point to 3.05 percent.
"Affordability is being supported by the ultra-low level of interest rates," said Robert Gardner, chief economist at Nationwide. "However, the risk is that if demand continues to run ahead of supply in the quarters ahead, affordability may become stretched."
Today's BOE data showed that business lending fell 4.7 billion pounds in November from the previous month. That's the biggest drop since the data series began in May 2011. From a year earlier, lending was down 3.9 percent. Lending to small and medium-sized companies rose 140 million pounds in November.
The central bank also said foreign investors bought a net 15.9 billion pounds of gilts in November. That followed a net purchase of 929 million pounds in October. It said M4, a broad measure of money supply, was unchanged in November from October and was up 2.7 percent from a year earlier.
Before it's here, it's on the Bloomberg Terminal.
LEARN MORE