Three Killed as Cambodian Police Fire on Workers, Daily Reports
Tony Jordan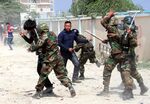 At least three people were killed when Cambodian police used live ammunition to crush a protest by striking garment workers in Phnom Penh, the Cambodia Daily reported, citing Municipal Police Chief Chuon Narin.
Workers armed with sticks and metal rods threw rocks and molotov cocktails at the police, who responded by firing live rounds using AK-47 assault rifles, the report said. Two people were injured in today's clash, it said.
The protesters are part of a nationwide strike by garment workers demanding a doubling of the minimum wage to $160 a month. About 500,000 Cambodians are employed in the garment industry, the country's biggest export earner. The government has offered about $100 a month, according to a statement from the Garment Manufacturers Association in Cambodia.
The clash comes a day after Cambodian soldiers forcefully quelled a separate demonstration by striking workers, detaining Buddhist monks and labor leaders. The soldiers carried metal pipes, knives, AK-47 rifles, slingshots and batons, according to the Cambodian League for the Promotion and Defense of Human Rights.
"We urge all those currently involved in protests and labor disputes and the authorities to abide by the law, exercise restraint and remain peaceful," the human rights group said yesterday in a statement on its website. "There must be an end to violence, arrest and discrimination of those seeking to exercise their rights to freedom of association and collective bargaining."
Before it's here, it's on the Bloomberg Terminal.
LEARN MORE