business
Syria's Small Factories Struggle to Survive
Many have closed or relocated outside the country
By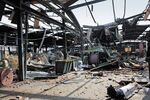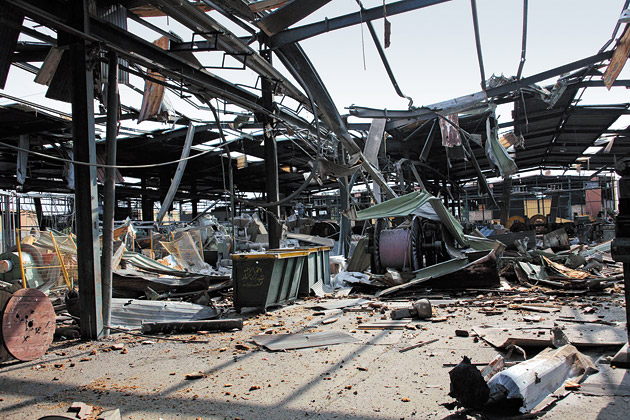 Syria's civil war has claimed both of Saeed Nahhas's businesses. In early 2013, government shells aimed at rebels destroyed a workshop manufacturing machines that produce packaging materials. Four months later rebels looted another that made plastic bags and zippers. Nahhas, by then living in Turkey, decided to set up a new packaging workshop there while waiting for the violence to end at home. "It's a tragedy," he says. "And the longer the conflict drags on, the harder it will be for people to return and set up their businesses again."
The conflict in Syria, which has claimed the lives of 125,000 people, has crippled the small factories that helped power what was a $60 billion economy before the war. More than half of the country's manufacturing output has been lost since the uprising against President Bashar al-Assad began in March 2011, according to an October report that the Syrian Center for Policy Research prepared for the United Nations. Fuad Lahham, who coordinates a UN program to rehabilitate Syria's industry, estimates that damage to the economy tops 330 billion Syrian pounds ($2.4 billion). Since many of the country's factories are inaccessible to government investigators, the reality is probably worse, he says.
Before the war, industry contributed 23 percent of Syria's gross domestic product and employed 16 percent of its labor force, according to the CIA World Factbook. The sector, composed primarily of privately owned factories that employed dozens rather than hundreds or thousands of employees, has been among the hardest hit by the war. Syria has experienced "massive deindustrialization as a result of business closure and bankruptcy, capital flight, looting, and destruction," with manufacturing output shrinking more than 70 percent between 2010 and the first quarter of 2013, according to the Syrian Center for Policy Research report. Some factories have relocated to Turkey or Egypt, others have moved their operations to pockets of Syria that have been largely spared from the violence, says Lahham.
Razek Mamarbachi has been determined to keep his two factories open and his 140 workers employed, even though he's not making a profit. One of his warehouses was shelled in early 2013 but sustained only minor damage. A plant 17 miles northeast of Damascus that manufactures lube oil under a licensing agreement with France's Total closed intermittently between January and April. Mamarbachi's other factory, in Drousha on the road to the Golan Heights, produces cleaning products for Germany's Henkel and insecticides for S.C. Johnson & Son. In 2013 it was shuttered from February to April because of fighting. Mamarbachi knows he's fared better than many other business owners. "It's sheer luck," he says. Now his eye is on the recovery that he's hoping peace talks scheduled to begin in Switzerland on Jan. 22 will bring. "I'm looking forward to 2014 to start making a bit of profit," he says.
If there is a cease-fire, Syria will need a skilled labor force to rebuild its economy. Many workers, though, have fled the country. Nahhas, the workshop owner who left for Turkey, says he recently hired two Syrian expatriates. One lost his technology company and works as an accountant for $600 a month. Another, whose pharmaceutical distribution company was destroyed, is making $1,200 a month doing administrative and accounting work. Both men are still supporting families in Syria. Despite their lower wages in Turkey, it's still more money than they could make in Syria today. Says Nahhas: "They're willing to do anything to survive."
Before it's here, it's on the Bloomberg Terminal.
LEARN MORE