Reclusive Beanie Babies Creator Goes to Court, Is Forced to Talk About Himself
By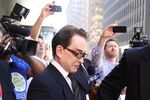 Ty Warner is the 69-year-old creator of Beanie Babies and owner of the Four Seasons Hotel in New York, a self-described "self-made American success story," and a billionaire who has admitted to evading taxes with secret Swiss bank accounts that held as much as $107 million. On Jan. 14, a federal judge in Chicago will decide if Warner should go to prison for up to five years or get probation and a long term of community service. Among the many interesting things about the case is the very revealing sentencing memo filed by Warner's legal team just before the new year: It's an unwitting biography of the reclusive executive.
Warner was born in Chicago into a "challenging" family situation, where he received "little financial or emotional support," according to the court document. Warner's mother suffered mental illness during his childhood and, in the late 1970s, was diagnosed as paranoid schizophrenic. Warner's father apparently was of little help in caring for his mother.
After graduating from a military academy in Wisconsin, Warner enrolled at Kalamazoo College in 1962. He had to drop out because he couldn't afford tuition. After that, he worked as a busboy, bellman, valet car parker, and fruit market vendor. He also sold cameras and encyclopedias door to door. Then, in the mid-1960s, he became a sales representative for Dakin Toy, which made figurines and stuffed animals. He found his calling with plush toys.
In 1985, he went out on his own, forming Ty Inc., which first made plush cats and operated out of his condo. Warner introduced the Beanie Baby in the early 1990s and made a fortune selling the $5 toys. They were filled with plastic pellets, could fit into a backpack or coat pocket, and collecting them became an obsession for kids around the country.
In 1996, Warner opened a Swiss bank account at UBS on the counsel of "polished and experienced Swiss financial advisers (now indicted fugitives)," according to the court document. In 2002, Warner transferred the money to another Swiss bank.
The filing also documents Warner's numerous health problems. He suffers from moderate hearing loss, high cholesterol, arthritis in his hips, and back problems. In 2009, he was diagnosed with prostate cancer, "which is now stable." He takes seven medications.
Warner's legal team asked the judge to consider the executive's charitable gifts and his pledge to pay penalties, back taxes, and interest of more than $69 million. They also reminded the judge that Warner was denied entry into an IRS amnesty program that has let more than 38,000 Americans with offshore accounts avoid prosecution. (The amnesty didn't extend to people, such as Warner, who the IRS already knew about.)
Prison time, which could range from 46 months to 57 months, would put him in dubious company. The actor Wesley Snipes and the Grammy-winning singer Lauryn Hill did time for tax evasion. So did Hollywood Madam Heidi Fleiss, Leona Helmsley (aka the Queen of Mean), baseball great Pete Rose, and Richard Hatch, the first winner of the TV show Survivor.
Before it's here, it's on the Bloomberg Terminal.
LEARN MORE