Have Smartphone, Need Snowplow: An App for Clearing Your Driveway
By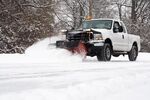 For the last eight years, Wills Mahoney has operated a small IT company in Syracuse, the upstate New York city that gets about 125 inches of annual snowfall. The severe winters—along with having a hard time finding a plow driver to clear his mother's driveway—inspired him to borrow the business model of companies such as Uber and TaskRabbit that connect customers and service providers for an array of jobs. Why not do the same for snowplows?
Mahoney launched Plowz in November after six months of work with his former roommate at Syracuse University, Andrew Englander, and app developer Lamplighter Labs. The company started in Syracuse with 20 drivers. Two months later, they've expanded to Buffalo and Rochester, two other snowy New York burgs, as well as Minneapolis and St. Paul, Minn. Milwaukee is next, and Englander says Plowz could be operating in as many as 25 cities by the end of winter. As a blizzard rolled in on Thursday night, Mahoney says he was up until 2 a.m. monitoring requests, which he says were in the hundreds.
Here's how it works. Customers use a smartphone app to request a plow. The app sends the request to drivers logged into the platform, and Plowz's software awards the job to the closest driver who wants the work. Prices range from $25 to $45, depending on the length of the driveway. Plowz, which has six full-time employees at its Syracuse headquarters, takes a 25 percent to 30 percent cut.
The plowmen get extra customers while servicing their regular routes. Homeowners get on-demand service from a network of providers, at something of a premium price. The Plowz website warns that surge pricing may apply, but Mahoney and Englander say it hasn't been an issue yet.
A bigger concern: finding customers in the market for on-demand service. In cities that get lots of snow, residents often sign up for regular plowing services. Plowz is built for the occasional customer: a son who wants to order a plow truck for stubborn parents who insist on shoveling themselves out, or customers who need their driveways plowed while they're out of town.
Plowz isn't the only company working on the idea. A company called PlowMe offers a similar service in the Boston area, as well as in Anchorage, Alaska. The barriers to entry appear to be low, judging by the crowded field of companies offering e-hailing services for taxis.
For the moment, the Plowz founders say they're focused on opening up new cities and adding services for the plowmen's off-season. (Plow drivers often work as landscapers in warmer months, says Englander.) Mahoney, meanwhile, has adopted the modern pursuit of obsessing over weather reports before snowfalls land. "I don't ski, and I've never been a huge fan of snow," he says. "But now snow is money."