As Tinder Flirts With Ads, Is It Worth Millions—or Billions?
By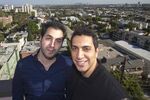 When I was reporting a story about Tinder last summer, the founders of the red-hot dating (and hookup) app were awfully evasive about their relationship with IAC/InterActiveCorp. I had to ask Tinder Chief Executive Officer Sean Rad over and over again before he acknowledged that IAC was not just an investor but the company's majority owner. Why? For a startup, it's a lot less sexy to have been born in a corporate research and development session than a college dorm room.
The arrangement is again relevant as IAC turns its dating division, headlined by Match.com, into a separate business that may eventually be spun off. Match had operating income of $205 million last year—but none of it came from Tinder, which IAC has been happy to operate at a loss as a kind of gateway drug, hooking a new generation of Millennials on the idea of finding love (or at least casual sex) online. In other words: Start them on Tinder, and they'll end up paying for Match.
So it may not be a coincidence that as this corporate reorganization is unfolding, Tinder is dipping a toe into advertising. Today, the app's users are finding fake profiles for The Mindy Project actors Mindy Kaling and Chriss Messina and appeals to watch the Fox sitcom. The ad campaign follows a similar July tie-in with the USA Network program Suits, which didn't bring Tinder any revenue. (Rad didn't respond to an e-mail about Tinder's place in IAC's reorganization or its plans for future advertising.)
Whether users want them or not, social networks of all kinds are forging ahead with mobile ads. Instagram has launched "sponsored content" from such brands as Ben & Jerry's and Lexus. Twitter said in October that more than 70 percent of its advertising revenue in the third quarter came from mobile devices. That's ahead of Facebook, which drew 41 percent of its ad revenue from mobile in the most recent period. Both stocks have soared in recent months.
An enormous amount of paper money is at stake as Tinder figures out how it fits into this evolving category. Is Tinder a dating app or is it a social network? The latter carry 10- and 11-figure valuations: Instagram sold to Facebook for $1 billion, and Twitter has a market cap of more than $38 billion. Dating services are worth just a fraction of that.
Last August I asked Match CEO Sam Yagan how much IAC would have had to pay for Tinder if it were acquiring the company as an independent startup, instead of having grown it in-house. Having sold his own dating business to IAC's Match unit for $50 million, he knew well the history of such sales. "I can't think of a single acquisition of a dating site for more than $10 million by someone other than Match," Yagan said. "We are the global buyer."
Tinder appears to have kept much of its momentum in the fickle hookup-app category: On Apple's iTunes App Store, it's ranked ahead of free apps from Plenty of Fish, OkCupid (another IAC property), and Zoosk. But a similar app, Hot Or Not!, which goes a step farther than Tinder by giving users a "hotness" score and statistics on who has rated them, has zoomed ahead to No. 17 overall.
That level of unpredictability would seem to argue against a valuation measured in the billions. But Tinder will get greater visibility as a hot property if Match is spun off as a publicly traded company. It would surely please Rad to move Tinder out of its corporate parent's house—even if it's only a partial upgrade, with the company still overshadowed by its big brother.
Update, Jan. 3: The "Mindy Project" campaign is part of a "strategic partnership" between Tinder and the TV show, and isn't considered advertising, company spokesperson Rosette Pambakian says via email.