As China Goes Exploring, Antarctica Becomes Another Frontier
by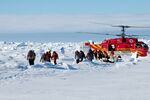 Luckily for people stranded since Christmas Eve in Antarctica, China is trying to become a global power in science.
The 52 passengers and 22 crew members had been stuck aboard the Akademik Shokalskiy, a Russian research ship trapped for nine days in ice while en route to the frozen continent. After several failed attempts, a Chinese helicopter yesterday came to the rescue and took the ship's scientists, journalists, and tourists to safety while the crew stayed onboard.
The helicopter belongs to the Xuelong, an exploration ship that was in the neighborhood as part of China's campaign to catch up to the U.S. in science. The Xuelong, or "Snow Dragon," is a 20-year-old vessel made in Ukraine in which China invested 31 million yuan—at the time worth about $5.3 million—to make it suitable for missions through the icy waters of the Southern Ocean. It has seven labs onboard, three operating boats, and, crucially for the people who were just now trapped in the Antarctic, a helicopter.
The Chinese vessel departed from Shanghai in November for its latest mission, China's 30th voyage to Antarctica, with more than two dozen construction workers on board. In a major expansion of China's presence in the region, the government is funding the construction of its fourth base on the continent. The main building of the new station will be shaped like a Chinese lantern. This year China will also launch another icebreaker suited for exploring the Southern Ocean.
China is expanding its footprint in the north, too. The Xuelong has already gone on four trips to the Arctic, according to the Chinese Arctic and Antarctic Administration, the government agency in charge of exploration at the poles. And the commitment to exploration goes beyond the polar regions: China is doing more undersea exploration and is among the leaders in a new wave of Asian nations building space programs.
As the world's second-largest economy, China's leaders want to become a scientific power. Reporting on a visit to the Chinese Academy of Sciences last summer, the official Xinhua news agency said President Xi Jinping told scientists there that China would "become powerful if it has strong scientific power."
No doubt Xi and other Chinese leaders also see economic opportunities in Antarctica because of climate change. Indeed, the official China Daily newspaper last May published an article that made clear China isn't interested in just studying penguins. Although some countries are worried about China's intentions toward the Arctic region, "the fact that China is more interested in the Antarctic should also encourage Arctic states to relax," the paper wrote. "Economically speaking, the unregulated Antarctic appears much more rewarding."
Before it's here, it's on the Bloomberg Terminal.
LEARN MORE