Xiaomi's Resolution: Double Its Smartphone Sales Volume in 2014
Christina Larson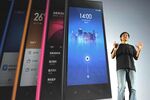 On the last day of 2013, Xiaomi founder and Chief Executive Officer Lei Jun took to a Chinese social network to announce his ambition for 2014: shipping at least 40 million smartphones. That would mean more than doubling last year's sales volume, as Xiaomi sold 18.7 million smartphones in 2013.
The past year didn't quite bring a doubling of Xiaomi's sales, but the company did grow in impressive leaps and bounds, with 160 percent more phones sold than in 2012 to boost revenue 150 percent. The company's strategy is to peddle high-quality Android phones at low prices—its Hongmi ("Red Rice") sells for about $130—and then charge for apps, games, advertising, and other services. Xiaomi's customized Android operating system, MIUI, now has about 20 million users. But Xiaomi isn't just sticking to phones. In September it began selling 3D smart TVs in China, priced at $490, or less than an iPhone.
Although Lei has frequently been compared to Steve Jobs, he wrote a pointed blog post on Xiaomi's website last year shrugging off the analogy: "Xiaomi and Apple are two totally different companies. So when a reporter asks, 'People all call you "China's Steve Jobs," how do you respond to that?' I really have nothing to say." A few days later, at the Global Mobile Internet Conference in San Francisco, Lei explained onstage what he saw as one of the defining differences: "The mission we're trying to accomplish"—selling hardware at razor-thin margins—"is very different from what Apple's trying to achieve." He later added: "I believe that we are more similar to Amazon, because we are actually using the hardware to build a software platform."
While Xiaomi is steadily chipping away at the iPhone's market share in China—along with Lenovo, Coolpad, and other Chinese smartphone manufacturers—the company doesn't plan to compete with Apple on its home turf in the U.S., at least not yet. Instead, Xiaomi has focused first on expanding into Hong Kong and Taiwan in 2013 and plans to begin selling phones in Southeast Asia in 2014.
Hugo Barra, the former vice president in charge of Android product development at Google who joined Xiaomi last fall to head up its international expansion plan, hinted at the company's evolving strategy in an interview with AllThingsD.com in September: "I think that's the sweet spot for Xiaomi—places like India, Russia, Indonesia, Latin America, Thailand. … It's where the equation of quality and affordability works, because it's in those markets you can replicate what the company has done in China."
Before it's here, it's on the Bloomberg Terminal.
LEARN MORE