What Wi-Fi's Popularity Means for Cell Phone Carriers
Upstarts like Republic Wireless pitch phones driven by Wi-Fi
By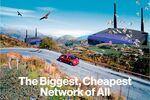 David Morken holds a Moto X smartphone out for inspection. "This," he says, "is a Wi-Fi device." Morken runs Republic Wireless, a national carrier based in Raleigh, N.C., that offers unlimited calls and texts for $5 per month, $40 if you want unlimited data. Republic keeps its prices low by avoiding something most carriers see as essential: It hasn't built a cellular network. For customers on the road, the company rents network capacity from Sprint. All other Republic calls, texts, and data use Wi-Fi, which Morken says handles about 50 percent of its calls and texts and 90 percent of its data. "Wi-Fi is eating the world," he says. "Why ignore the biggest network in the world?"
Three-year-old Republic, whose service came out of beta testing in November, declined to release sub-scriber numbers. A competitor offering similar prices, two-year-old Cambridge (Mass.)-based Scratch Wireless, also rents capacity from Sprint. It's growing by invitation only. Both carriers require the upfront purchase of an Android smartphone modified to use a customer's home or business Wi-Fi network for a phone call. The newcomers provide a radical response to a mundane fact confronting all mobile phone carriers: After a decade in which the big four U.S. wireless carriers spent tens of billions of dollars to upgrade their networks, arguably the fastest and largest network is the one we've all been building together, router by router.
A wireless network requires three things. A transmitter, or "cell," sends a signal to a handheld device. This signal travels over an available slice of the electromagnetic spectrum. A hard-wired fiber-optic cable ("backhaul") gets the signal back to the Internet. Traditionally, mobile phone companies put their cells atop towers on dedicated land and bought exclusive rights to a piece of the spectrum, at great expense. The Wi-Fi network was built on the cheap. The cell is the consumer-grade router blinking in the corner of your living room. You don't pay for the spectrum, because Wi-Fi doesn't require a license from the Federal Communications Commission, and you're already paying for the backhaul with your home Internet service.
In 2012, according to Cisco Systems, one-third of all data traffic from smartphones passed through a Wi-Fi router. Cisco expects that to rise to almost half by 2017. The trend is more pronounced with tablets, as more than two-thirds already connect to the Internet exclusively through Wi-Fi. That's a problem for big U.S. carriers, who have spent a fortune on 4G networks to sell faster, pricier data plans as their revenue from voice plans tails off. Cisco's report showed that traffic over cell networks didn't grow as much as expected in 2012, partly because mobile-device users took a couple of minutes apiece to adjust their settings to automatically jump to their home and office Wi-Fi networks when possible, avoiding the fees for exceeding carriers' new limits on data.

The rule of thumb is that a smartphone uses four gigabytes of data a month, says Torbjörn Wård, chief executive officer of Stockholm-based network-management company Aptilo Networks. Out of that, he says, one gigabyte travels over a cellular network, and three gigabytes travel through Wi-Fi, usually at home. "The question for the carrier is, 'How can I monetize the three gigs?' " he says. "And for the consumer, 'How can I minimize the cost of the one gig?' "
A country's dominant carrier is typically too focused on its 4G cellular network to think much about Wi-Fi. When asked about Verizon Wireless's interest in Wi-Fi networking, spokeswoman Debra Lewis said, "We are focused on our 4G LTE." Wård says the carriers working to incorporate Wi-Fi tend to be the third- or fourth-largest in a market, those with poor spectrum holdings. The exception is AT&T, No. 2 in the U.S., after Verizon. "AT&T, I have to admit, actually has been pro Wi-Fi," says Wård.
In the U.S., AT&T is the only major carrier offering what the industry calls "seamless offloading." AT&T has agreements with about 32,000 hotspots at businesses and other public places. A customer walks into range, the hotspot recognizes his smartphone, and it immediately logs him on. Once on Wi-Fi, the customer no longer pays for data. Customers "are saving some money, frankly," says Mark Siegel, an AT&T spokesman. "And also it's a benefit because it offloads some traffic from our network." China Mobile handles 72 percent of its traffic this way, bridging gaps in high-density coverage areas where cellular towers can't handle the volume. TIM Participações in Brazil and O2 in the U.K. do this, too.
With its hotspots, AT&T has recognized that in some places Wi-Fi isn't just cheaper for the smartphone holder, it's cheaper for the carrier. An efficient way to improve a wireless network is to densely pack the cells that are sending and receiving data. For a crowded area such as a mall, the carrier is better off working with the property owner to build a bunch of shorter-range Wi-Fi cells than to site and build a massive tower somewhere nearby. For big carriers, this could mean billions in savings over time.
AT&T has installed 4G antennas at Sun Life Stadium, where the Miami Dolphins play, to strengthen its cellular signal for voice calls. Each is paired with a Wi-Fi router to give AT&T customers better data access, too. AT&T's Siegel declined to discuss compensation for hotspots with property owners. Wård says Aptilo is working on four similar stadium projects. Cisco estimates that offloading will grow to 13 percent of U.S. wireless traffic by 2017, from 2 percent in 2012.
Claus Hetting, a former Nokia executive who advises wireless carriers on network architecture, says that elsewhere in the world the shift to Wi-Fi has prompted wired Internet service providers such as BT in the U.K., France's Free Mobile, and Japan's KDDI to realize they own an extra wireless network because they power the Wi-Fi of every customer. In the U.S., says Hetting, cable operators such as Time Warner and Comcast could enter the mobile market if they cared to. "These guys have every opportunity to be disruptive," he says. "Their potential Wi-Fi footprint is enormous."
Looking over his shoulder, Morken at tiny Republic Wireless says he isn't concerned. He doesn't need a lot of hotspots. The Wi-Fi his customers already pay for at home and at work will do, and he doesn't think the larger carriers will go as far as he has to offer alternatives to the conventional networks. "Carriers," he says, "are not born cannibals."
Before it's here, it's on the Bloomberg Terminal.
LEARN MORE