Thinkmodo Perfects the Viral-Video Ad Strategy—With Pranks
A small firm specializing in pranks has perfected a new model— viral videos as advertisements
By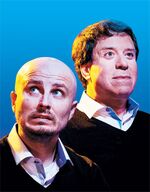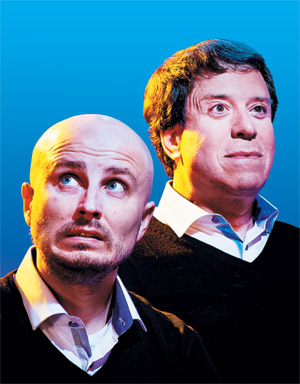 A woman is standing on a street corner in New York when she notices a red baby carriage. It's a snowy December morning, and she can hear a faint cry coming from the baby, who's wrapped in a blanket, with one tiny hand exposed to the cold. She looks around for the stroller's owner. Did someone really abandon this child? The woman peers into the carriage. Just then, the baby lunges at her. It's a grotesque newborn with translucent, veiny skin and coal-black eyes that look possessed. The baby wails and writhes around in the stroller, which starts moving on its own. The woman screams, pauses, screams again, then laughs. A production assistant runs up to her with a clipboard and offers her $10 if she's willing to be in a video. A few feet away, James Percelay and Michael Krivicka, the founders of online advertising firm Thinkmodo, are smiling.
Percelay, 53, and Krivicka, 37, have been filming the baby carriage prank for two days. In January it'll be launched as a YouTube video to promote Devil's Due, a low-budget horror movie about a demonic pregnancy that 20th Century Fox will release on Jan. 17. Thinkmodo's video shows the buildup to the prank: how Eric Fiedler, a Hollywood special effects designer, assembled the baby, which he operates remotely, and how effects artist Mark Rappaport hand-painted the veins into the doll's latex skin, which feels surprisingly real to the touch. Thinkmodo likes to include the setup to its stunts, "so audiences feel they're in on the secret," Percelay explains. The way he sees it, "a prank is like a magic trick; you always want to know how it's done."
The three-year-old advertising firm makes videos for companies such as Oakley, AMC Networks, and CBS Films, and almost every one has been watched more than a million times—many of them more than 10 million. Thinkmodo's last ad was a two-and-a-half-minute promo for Sony Pictures Entertainment's Carrie remake that featured a woman using her telekinetic powers to freak out coffee shop patrons. Released in October, it's been viewed more than 52 million times on YouTube; Google recently ranked it the second-most-watched online ad of the year.
For years advertising agencies and the companies that hire them have been trying to pinpoint the exact formula that makes a video go viral online. They know some of the components: Cute animals help, as do babies and ridiculous pop songs. But six years after Keyboard Cat plinked his first notes on YouTube, finding fans on the Internet is still mostly a crapshoot. Thinkmodo keeps placing the right bets.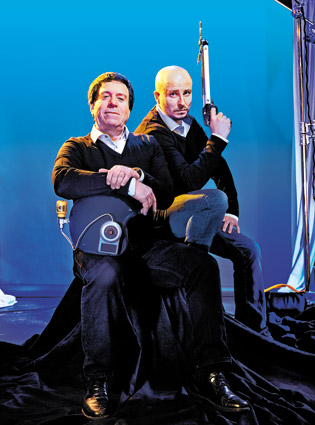 Aside from a cheerful office assistant named Sam, Thinkmodo's founders are still its only employees. Percelay is a former line producer for Saturday Night Live, where he made commercial parodies. In 2011 he was working on a Web series for Warner Bros. when he saw a video Krivicka made about a fake iPhone app called Nude It that allowed you to see through people's clothing. "I suddenly had this idea for an advertising firm that only made Web videos," he says. He called up Krivicka, the two met for beers, and a few months later they were working on their first project. It was a commercial for the razor company HeadBlade, filmed on a smartphone, in which two twenty-something guys show off a motorcycle helmet they've turned into an automatic head-shaving device.
Thinkmodo has long since upgraded from iPhone videos; today the average price of a project is about $750,000, on par with filming a regular television commercial. That includes the production, editing, creation of the animatronic baby or whatever other props are needed, and the initial online campaign, which Percelay and Krivicka oversee themselves.
The company's videos follow a specific formula. First, Krivicka says, you have to play on people's emotions. "Make it funny or scary or something that makes people say, 'Wow'—those are the moments in life we want to share with someone else," he says. Don't show the product or advertise the film too blatantly, or people will stop watching. When filming a prank, make it as authentic as possible while guarding against lawsuits. (Thinkmodo often prescreens people for heart conditions and asks them to sign a release.) "We like to invent the 'world's first' something," Percelay says. "People will always click on that." Despite its attention to viral marketing, Thinkmodo's end goal isn't to get a lot of fans on YouTube. "We don't need to be the most viral video in the history of the Internet," Percelay says. "Our real goal is to get on TV."
Television is still a highly coveted marketing medium, but because people now watch shows online and through DVRs, they've learned to avoid commercials, making it harder for advertisers to get their attention. But if a business can somehow get its message to be part of the actual TV program—maybe have its own segment on Good Morning America or get talked about on CNN—then it's not a commercial anymore, it's "content." And in this era of a million cable channels and endless news cycles, media outlets are ravenous for stuff to discuss. If a Thinkmodo campaign is newsy enough, it might just get on TV for free.
"We've never done a traditional TV commercial. It's too expensive," says Hitesh Hajarnavis, chief executive officer of Popcorn, Indiana, which sells snacks everywhere from Whole Foods to Walmart. According to media agency TargetCast tcm, the price of airing one 30-second prime-time ad is well over $100,000—and that's just for one spot. A frequently aired campaign can easily cost millions of dollars. So Hajarnavis hired Thinkmodo. In 2012, Percelay and Krivicka filmed a video about the Popinator, the "world's first" machine that shoots popcorn directly into people's mouths. The Popinator made it onto ABC News and the Huffington Post; Seth Meyers even mentioned it on SNL's Weekend Update. A year and a half after the video's release, Hajarnavis says he's still fielding calls from people who watched it. But that doesn't guarantee sales. "It's a good gambit, but it's a narrow type of ad for most companies," says Randall Rothenberg, CEO of the Interactive Advertising Bureau. "Paid advertising is still the most predictable."

Thinkmodo has also become a go-to online marketing arm for major film studios such as 20th Century Fox and Sony Pictures. Hollywood knows how to drop tens of millions of dollars on big-budget films such as Anchorman 2: The Legend Continues, but it needs help making sure smaller films don't get lost. "We're a horror film by a first-time filmmaker with an unknown cast," says Tyler Gillett, director of Devil's Due, the subject of the baby carriage prank. "Fox can't just plaster Vince Vaughn's face on a billboard for us; we have to really sell this movie."
The firm has done a lot of ads for horror films. There was the Carrie video, the fake murder-in-progress scenes it staged for niche horror film Dead Man Down (covered by ABC News, Time, and Gawker), and the time it had demons appear in trick mirrors used by unsuspecting hair salon customers for The Last Exorcism Part II. This summer more than 20 movies with budgets over $100 million were released, and many of them failed spectacularly. And every single one came with a multimillion-dollar marketing campaign that was similar to the last. "I think studios are starting to realize that their spending is out of control," Percelay says, pointing out that after this summer's box office implosion, six marketing executives have been fired from major studios. Meanwhile, he and Krivicka are moving from genre films to blockbusters. They won't say which ones, but a whiteboard in their office has the names of some films behind them. Among them are Spider-Man and Transformers 4.
After The Last Exorcism Part II video release, Thinkmodo took the mirror to Today, where Matt Lauer used it to scare co-host Natalie Morales (Lauer has re-created at least three of the agency's stunts on air). With advertising incorporated into news shows, it's becoming more difficult to tell the two apart. Until now, most of the journalistic debate has focused on "sponsored content" and "native ads," or paid advertisements designed to look like news articles. Thinkmodo doesn't pay for anything—it just releases a video, racks up millions of views, and then sits back and waits for Matt Lauer to call.
"There've always been exceptions to advertising, and this just sounds like the latest one," Rothenberg says. Thinkmodo's tactics remind him of the 1980s trend of video news releases, or VNRs, in which public relations companies created their own news segments and allowed stations to broadcast them freely. "This is essentially the same thing."
After four hours of frightening people with the demonic baby stroller—including one New York policeman who's about to radio for backup when Percelay runs up to him and explains it was just a joke—the group breaks for lunch. Fiedler and Rappaport run off to fix the carriage, which stopped working after a confused sanitation worker bumped into it with his cart. Once it's repaired, they'll go back to filming in the last few hours of winter daylight. "It's looking great," Krivicka says. "But tomorrow let's make the baby vomit."
Before it's here, it's on the Bloomberg Terminal.
LEARN MORE