The Man Who Buys Headstones For Blues Musicians
By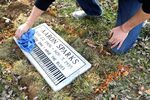 In 1997, Steven Salter was traveling from his home in Michigan to the New Orleans Jazz & Heritage Festival when he decided to visit the graves of some of his favorite blues legends along the way. He easily found Muddy Waters, the Chicago guitarist who was buried under his given name, McKinley Morganfield, in Alsip, Ill. And he tracked down Howlin' Wolf, which wasn't too difficult, considering that the scratchy-throated bluesman's tombstone in Chicago features a guitar etched above his name. But he couldn't find Otis Spann. In the 1950s and '60s, Spann was a successful musician and staple figure in Waters's band. He died of liver cancer in 1970 and was buried, also in Alsip, with nothing to mark his grave.
"It shocked and distressed me that someone of his stature would've been forgotten like that," Salter says, "I thought: Somebody needs to get him a tombstone." Then Salter decided to buy one.  Now he runs the Killer Blues Headstone Project, a grassroots nonprofit that raises money for blues musicians whose unmarked graves put them in danger of being lost and forgotten. Bloomberg Businessweek spoke to Salter about the charity, the blues, and why so many legendary musicians ended up penniless.
When you hear of somebody becoming successful at music, there's an assumption that they're—well—if not comfortable, then at least able to get by. But that's not the case.
Indeed, it's not the case at all. These musicians weren't big players—they made a living with their music, but it was mostly from live performances.  When they died, their income died with them. There wasn't enough money for any kind of contingency fund to support the families they left behind, much less buy a headstone. Sometimes a musicians' union would provide money for a headstone but the family, deprived of their main income, would get the check and think, 'Hmm, do we buy a headstone or do we pay this month's rent?'
Bessie Smith died in 1937 and even though thousands of mourners came to her funeral, she went without a tombstone until 1970, when Janis Joplin paid for one. Is this a problem unique to blues musicians? Or everyone?
I'm a blues fan, so I couldn't say how many jazz, country, or folk artists have met similar fates. But my guess is that—given the nature of the blues and where it comes from—this is more prevalent in the blues world.
How do you locate these graves if they're unmarked?
Cemeteries keep records of where people are placed, so if I know the cemetery—I've found mentions of burial sites on album liner notes, in old news articles, anything I can get my hands on—I can  call and ask if they have a headstone. Sometimes I physically go to the cemetery and walk up and down, looking at every tombstone, trying to find somebody.
Who was the hardest musician to find?
The one that comes to mind is Bo Carter. He was a pretty big artist in the 1930s and he's buried in Nitta Yuma, Miss. I know he's buried there because I got a copy of his death certificate. A couple years ago I made the trek down to Nitta Yuma with a friend of mine and found a very small cemetery on the edge of an agricultural field. It's not kept up at all. We walked the entire cemetery and looked at every stone and there's no marker. I've been trying for a number of years to try to find a way to place a stone for him but I don't know where [in the cemetery] he is. I tracked down the company that did the burial services and he was the last person interred in that cemetery, in 1964. It's been out of use since then. So it's hard to find the proper records.
How many headstones have you placed?
Twenty-two so far, although we have three that are being designed and haven't yet been placed. We work with a company called Grassmarker, which for $300 will ship a small one foot-by-two-foot headstone anywhere in the country. But cemeteries have burial fees on top of that, and the prices range, depending on where someone is located. Bills run up to $1,000.
 How do you raise money?
I used to have a blues CD business; I used the profits to fund my first few headstones. But, of course, people stopped buying CDs, so my business went away. In 2008, I hosted a blues festival in my hometown [Whitehall, Mich.] to raise money. Now we take donations through PayPal and our website. All of our money goes to the headstones. I have a full-time job—I work in the test lab of a company that makes automotive shift systems—so I don't make money off this.
What are you working on now?
Have you heard about Eric Davis? He was a blues musician who was killed last week. [Davis was found shot inside his car on the south side of Chicago on Dec. 19.] We're taking care of his headstone. Aside from that, we have a list of about 12 to 15 people whose graves we've located, so we'll work down that list. A few months ago, we'd spent all our money but then we got another influx of donations, so we should be able to do another batch soon.