Surge Pricing as Colorado's Pot Sellers Open for Business
By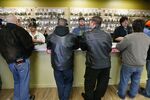 Hopeful consumers queued up in the cold morning, eager to participate in the history moment when, on New Years Day, Colorado's pot sellers became the first-ever legal recreational marijuana retailers in the world. Adults could buy up to an ounce of pot each, with out-of-state visitors capped at a quarter-ounce per person. There were no reported tussles or disruptions, nor was there a surge of use in public, which is illegal. For all its mellowness, the rollout also showed the harsh reality of supply and demand.
With so many people in line, being part of history didn't come cheap. According to the Associated Press:
"Some shops raised prices or reduced purchasing limits as the day went on … by midafternoon, one dispensary was charging $70 for one-eighth of an ounce of high-quality pot. Medical marijuana patients just a day earlier paid as little as $25 for the same amount.
At least 37 stores sold marijuana on the first day, reports the Denver Post. All pot sold legally in the state must be grown by licensed stores and producers, but in a catch, growing pot for recreational use also couldn't start until Jan. 1. That forced stores to rely solely on plants that had been legally farmed for medical use. The AP says medical users are concerned that they're being priced out of the market as retailers divert their supply to more lucrative general users.
A few factors over time could ease the supply crunch—and perhaps drive down prices. Stores must be licensed locally, and in Denver, only existing medical pot operations are allowed to run recreational businesses until 2016, but after that, more retailers can open. Adults can also start growing up to six plants each at their home, which may ease demand if enough consumers prefer the DIY route. Demand from out-of-towners could fall, as other states inch toward greater legalization. Washington state's recreational-use stores are expected to open later this year. Finally, the thrill of being part of history will likely wear out, as retailers and buyers come down from their opening day high.
Before it's here, it's on the Bloomberg Terminal.
LEARN MORE