Review: Downton Abbey's Sad Return
In the period drama returning to PBS, real-world problems aren't much fun
by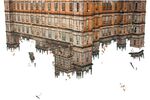 If I were to ever search for logic, I would not look for it among the English upper class," says Downton Abbey's quippy conscience, the Dowager Countess Grantham (Maggie Smith), in the third episode of the show's fourth season, which premieres on Jan. 5 on PBS. Three-and-a-half months after airing in Britain, where it averaged 11.8 million viewers per episode and became the U.K.'s most-watched drama, the period series returns on a note of change. Even the Dowager, the character most closely bound to the old, aristocratic ways, is moving away from tradition. Last season, when Lord Grantham (Hugh Bonneville) wore black tie to dinner instead of white, she told him he looked like a waiter. When it happens again in the fourth season, she merely sighs, "And so another brick is pulled from the wall."
The premiere begins in the aftermath of tragedy: Matthew Crawley, Downton Abbey's likable and cute male lead, was—spoiler alert—killed off in an untimely car accident at the end of season three. (The actor, Dan Stevens, pulled a David Caruso and left to pursue a film career.) Without him, fans wondered, was there any reason for Downton to go on? Crawley's widow, Lady Mary (Michelle Dockery), spends much of the fourth season asking the same question. In fact, the grand English country house enters 1922 populated mostly by widows, grieving mothers, and orphans, and its once highly refined social strata are in complete disarray. Past episodes saw Downton struggle to maintain its splendor, first in wartime—when the new hardships, while appalling, were at least temporary—and then amid the cosmopolitan and increasingly democratic world that surrounded it. Now Downton's heir is dead, the death taxes are due, and Lord Grantham says he can't afford them unless he sells off some of the estate. It's the beginning of the end for British nobility, and everybody knows it.
Of course, that doesn't mean the world is without conflict—just that the problems seem more relatable and less "the Duchess was called the wrong title at lunch!" A black jazz singer is introduced this season and encounters the expected bigotry. Ugly duckling Edith Crawley (Laura Carmichael) contemplates marrying a soon-to-be-divorced man—even the complications specific to landed gentry have modernized. Lady Mary finally gets control over some of the estate but worries that, as a young woman, she won't be taken seriously. Happily (and completely anachronistically), she decides to Lean In.
In creator Julian Fellowes's transition to modernity, it's harder for American viewers to live out their Anglophile fantasies. Sure, a society that values bloodlines over hard work is anathema to our country's ideals. But who wouldn't want to inherit a sprawling country estate and wear fabulous flapper dresses to dinner? Most of us watch Downton Abbey assuming that we'd be given a place at the Crawleys' dinner table, when the truth is we'd almost certainly be eating with the servants.
This season, Downton's a sad place that gets even sadder as it begins to fall. But while the joy may be gone, the drama definitely isn't. Fellowes has written plenty of salacious subplots to keep fans entertained. There are still grudges and rivalries and backstabbing servants, and one endearing scene in which the cook, Mrs. Patmore (Lesley Nicol), confronted with the invention of the electric mixer, worries that her job has been made redundant.
On its surface, Downton Abbey's an escapist soap opera disguised as a PBS drama, much like its grandparent, Upstairs, Downstairs, and it's easy to watch it smugly, secure in the knowledge that we're from a more liberal, accepting time in a more liberal, accepting country. But with each passing season, the future that Downton trudges toward seems more like our own. And where's the fun in that?
Before it's here, it's on the Bloomberg Terminal.
LEARN MORE