business
Japan's Micro Farms Face Extinction as Abe's Reforms Advance
Abe sets policies to spur consolidation and boost efficiency
By and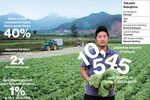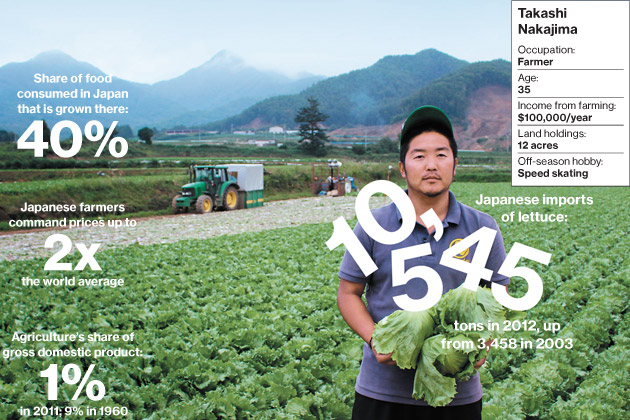 Takashi Nakajima makes $100,000 a year growing lettuce on 12 acres in Japan's Nagano prefecture. The 35-year-old third-generation farmer employs Chinese laborers to pick his crop and takes four months off in the winter to indulge his passion for speed skating. Now his way of life is endangered because of reforms set in motion by Prime Minister Shinzo Abe's government. "They want to streamline Japan's farming business," Nakajima says. "Small farmers won't be able to survive, and the community will die."
Government payments accounted for 56 percent of total earnings for Japanese agriculture last year, behind only Norway and Switzerland, according to the Organisation for Economic Co-operation and Development. Abe plans to cut subsidies to rice farmers, which total 161 billion yen ($1.6 billion) a year. He also wants to reduce the triple-digit import tariffs that apply to wheat, sugar, beef, pork, and dairy products.
The goal is to force thousands of hand-tended farms such as Nakajima's to consolidate, boosting yields and lowering the cost of food. According to OECD estimates, Japanese farmers command prices that are twice the world average. "The current system is so unproductive that it's hurting the nation as a whole," says Robert Feldman, head of Japan economic research at Morgan Stanley MUFG Securities. "Changing the agricultural laws is a good way to promote the conversion of land to more efficient use."
Japan's proliferation of small farms is a legacy of the country's postwar U.S. occupation, which diminished the power of the land-owning class by distributing plots to the tenant farmers who tilled about one-third of the nation's fields and rice paddies. As Japan's industries boomed, villagers quit the fields and went to work in factories. Stringent regulations governing the transfer of arable land have prevented a new generation of farmers from taking their place. A 2010 survey by the Ministry of Agriculture, Forestry and Fisheries showed that almost 9 out of 10 farmers were over 50.
"Agriculture is the most difficult sector to reform," said Abe during a Dec. 6 interview in Tokyo, a day after parliament passed a bill designed to reduce the amount of idle land by allowing farmers to lease out parcels. The law will "enable farmland to be consolidated and taken over by those who are really motivated," Abe said. In late November the government approved a plan to end a four-decade policy of paying rice farmers to reduce their production in order to support prices. The subsidy will be halved effective April 2014 and abolished by Mar. 31, 2019.
Agriculture's share of gross domestic product is now less than 1 percent, down from 9 percent in 1960, according to government data. Yet farmers still wield considerable political influence through the Japan Agricultural Cooperatives group. The JA, as it's commonly known, finances and insures farms, supplies them with equipment and fertilizer, and buys their produce. With almost 10 million members, the organization is also Japan's largest political lobby.
While the ruling Liberal Democratic Party has historically relied on the JA for support, Abe has antagonized the group with his decision to join negotiations for the Trans-Pacific Partnership, a free-trade area encompassing 12 countries. The JA has collected 12 million signatures on a petition opposing the talks.
Although the Abe administration has argued that liberalized trade will help reinvigorate farms, government forecasters project that joining the TPP may result in an initial decline of about 3 trillion yen in output from agriculture, forestry, and fisheries, as local producers adjust to an influx of foreign imports. Nobuhiro Suzuki, a professor at the University of Tokyo's department of global agricultural sciences, is less confident that farmers will be able to rebound from the shock. "It's a fairy tale to think Japan can compete with the U.S. or Australia on products where land area determines competitiveness," he says.
For a small farmer like Nakajima, Abe's policies are likely to translate into more competition, from both farmers abroad and local rice growers switching to higher-value vegetable crops as their subsidies dry up. "I'm worried about TPP," Nakajima says. "Our lettuce is good, and when it comes to freshness, foreign products won't be able to match us. But I sometimes wonder whether people see the difference."
Before it's here, it's on the Bloomberg Terminal.
LEARN MORE