business
It's Not Just Hacking Threats; Small Businesses Face Low-Tech Fraud
By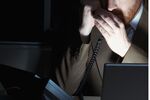 Data breaches at Target and Snapchat show that even deep-pocketed companies are vulnerable to cybercriminals. A recent missive from the FBI demonstrates that Main Street shops can also face cruder threats, with fraudsters using aluminum wrap to block merchants' credit card satellite antennae, abetting purchases with phony cards.
Here's a scheme that's even more low-tech. Crooks in Portland, Ore., have been calling small business owners pretending to be from an electric company, according to a local TV outlet. Due to a recent hacking attack against the utility, the flimflam goes, monthly bill payments were never processed. Scammers tell merchants that if they don't pay past due bills immediately, they could lose power—a threat that probably sounded especially fearsome during the holiday shopping season.
The swindle hasn't been confined to Portland. In November, the FBI's Seattle office warned small business owners against a similar scam, noting that the ruse had also been reported in New York and Maryland. (Minority business owners may have been singled out, according to the FBI, and fraudsters often asked merchants to settle up with prepaid Green Dot debit cards.) Missouri's attorney general and Wisconsin's Department of Agriculture, Trade and Consumer Protection have also warned that utility scams are on the rise. The list of states goes on.
The good news? Utility scammers are a lot easier to, uh, foil than the rooftop bandits. Wisconsin officials say that utility companies will never threaten immediate cancelation over the phone or require payment by wire transfer or prepaid card. Which means you don't have to shimmy up a drainpipe to protect yourself. Just collect any information that could be helpful to authorities and hang up the phone.
Before it's here, it's on the Bloomberg Terminal.
LEARN MORE