Itau Hunts Bargains in Peru After Stocks Plunge
Eduardo Thomson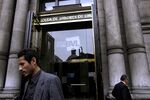 The rout that made Peru's stock market the worst performer in 2013 is luring bargain hunters from Itau Unibanco Holding SA to Wasatch Advisors on wagers that faster growth and higher commodity prices will fuel a rebound.
The Lima General Index sank 24 percent in 2013, pushing the benchmark's price relative to the value of assets on its members' balance sheets to a three-year low. Raw-materials companies that make up more than half the gauge led the decline. Stocks linked to domestic demand such as builder Grana y Montero SA are attractive with forecasts for the economy to grow at the fastest pace in South America, according to Brian Chase, a money manager and head of Andean equities at Itau.
"The changes at the global level and expectations of more stable commodity prices have made us go overweight Peru versus the region," Chase, who helps manage $1 billion of Latin American stocks, said in a telephone interview from Santiago. Itau has been adding shares of Grana y Montero on bets it will benefit from President Ollanta Humala's planned increases in public works spending, as well as lender Credicorp Ltd., which has dropped 20 percent from the beginning of April, Chase said.
Mining companies are attractive to Lima-based broker Kallpa Securities SAB as they reduce expenses to counter declines in copper, gold and other metals amid slower growth in China, Peru's biggest trading partner. Foodmaker Alicorp SAA and cement maker Union Andina de Cementos SAA are set to gain as economic growth accelerates, according to Andrey Kutuzov, a fund manager for Wasatch.
Commodities Outlook
Peru is the world's third-biggest copper producer and ranks fifth in gold output, according to government figures. Mining accounted for 56 percent of export revenue in the first eight months of last year, according to the Mining Ministry's website. Copper entered a bear market last year, while gold and silver sank the most since 1981.
A rebound in mining stocks won't happen until global growth figures strengthen, according to Fernando Iberico, an analyst at broker Inteligo SAB in Lima.
"Local miners my look cheap from a fundamental point of view, but they still lack a global driver or catalyst that could turn fund flows into the industry," Iberico said in a telephone interview.
Analysts, traders and investors surveyed by Bloomberg in December predicted metals prices will rebound this year. Copper will rise to as high as $7,836 a ton in 2014, from $7,360, the median estimate showed. Gold will gain 2.7 percent to $1,238 an ounce, according to data compiled by Bloomberg, while silver is forecast to climb 8.5 percent. Copper fell 0.4 percent at 1:48 p.m. in New York today, while gold increased 1.7 percent and silver jumped 3.4 percent.
Rebuilding Portfolios
Rio Alto Mining Ltd. is poised to rise after posting the third-worst performance on the main stock gauge last year, according to Javier Frisancho, an analyst at Kallpa. The company, which had the largest weighting in the benchmark index, dropped 68 percent last year, and its shares trade at a 74 percent discount to global peers on a price-to-earnings basis, according to data compiled by Bloomberg. Rio Alto's shares gained 4.9 percent today.
While the Peruvian stock market will probably be volatile until there are more signs of sustained economic growth, Frisancho said he is advising clients that they should start buying stocks now if they can tolerate the price swings.
"I'm telling them, 'You can start rebuilding your portfolio, but don't expect gains in the short term,'" Frisancho said in a phone interview. "You have to be in it for at least a year."
Peru Valuation
The Lima General Index's price-to-book ratio, a measure of valuation, reached 1.11 times on Dec. 9, while the level of the MSCI Emerging Market Index reached 1.53 times, the largest gap since December 2010, according to data compiled by Bloomberg. Peru's benchmark ended 2013 at 15,753.65, a seven-week high, and advanced 0.8 percent today.
The relatively low valuation of Peruvian stocks make it an attractive market this year for fund managers looking for good values, according to Eric Conrads, a money manager who helps oversee $500 million in equities at ING Groep NV in New York.
"Peru is probably the best story of 2014," he said by e-mail. "The country is a good story for those looking at the asset class and that can tolerate lower liquidity."
Stocks tied to domestic consumption will benefit as Humala's infrastructure investment programs spur construction and help boost wages for working-class Peruvians, according to Wasatch's Kutuzov, who helps manage $3.8 billion in emerging and frontier-market stocks.
'Continue Growing'
"We are structurally interested in Peru," Kutuzov said by phone from Salt Lake City. "Despite all the volatility in the index, consumer demand and the economy continue growing."
Edwin Paz, a trader at Provalor SAB in Lima, said he's beginning to recommend buying some mining stocks as declining copper and zinc inventories could lead to an increase in prices. Copper stockpiles monitored by the London metal exchange have fallen to the lowest level since February. Zinc inventories reached the lowest since March 2012 on Dec. 23.
Chilean stocks were also battered last year by the drop in prices for copper, the country's biggest export. The benchmark IPSA index lost 14 percent, the third-worst performance among 94 primary indexes tracked by Bloomberg. Brazil's Ibovespa was the second-worst performer as it tumbled 16 percent, led by a drop in Vale SA, the world's largest producer of iron-ore, an ingredient used in steelmaking.
GDP Outlook
Economists surveyed by Bloomberg estimate Peru's gross domestic product will grow 5.45 percent in 2014 after expanding 5.05 percent in 2013, the slowest pace since 2009, as domestic consumption shrank and exports declined. Investors lost confidence in the country last year as environmental and political groups opposed some mining projects and the government failed to start promised infrastructure projects, according to Itau's Chase.
There have been signs that those trends will reverse this year, Chase said. The government plans to award $12 billion in investment projects mostly in infrastructure by July, Cabinet Chief Cesar Villanueva told reporters Dec. 10. Mining minister Jorge Merino said Dec. 20 that Southern Copper Corp.'s $1 billion Tia Maria copper project has received support from the local community.
Unacem Shares
Union Andina, also known as Unacem, trades at half the price-to-earnings ratio of its global peers, according to data compiled by Bloomberg. The stock, which has rebounded 12 percent from a 10-month low on Nov. 20, is poised to benefit from the increases in public-works spending, according to Wasatch's Kutuzov.
Peru's benchmark will probably outperform emerging-market peers in the second half of 2014 as valuations already reflect the impact of reduced U.S. monetary stimulus and the global economic recovery is gaining momentum, according to Carlos Rojas, a managing director at Andino Asset management SAC. Rojas said he has been buying shares in machinery company Ferreycorp SAA as a recovery in mining will increase demand for its products and services.
"There may be a rebound in the first half of the year and a very good second half," he said by phone from Lima.
(Corrects story first published Jan. 2 to fix spelling of fund manager's name in fourth, 15th, 16th and 21th paragraphs.)
Before it's here, it's on the Bloomberg Terminal.
LEARN MORE