A Thaw With the West Boosts Iranian Stocks
Prices and volume rise as investors bet on an end to sanctions
by and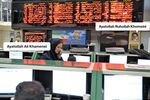 On a recent morning in December, a 23-year-old college graduate named Samira stands with hundreds of others inside the stock exchange in downtown Tehran, considering whether to invest $600. As stock prices flash on screens above the trading floor, she says she's excited to buy her first shares. "I like the feel of this—it has a buzz," says Samira, who declined to give her last name for fear of reprisals for talking to a reporter from a foreign news organization. "Anyone you speak to these days will tell you the stock exchange is the best place to invest right now."
The June election of President Hassan Rouhani to replace Mahmoud Ahmadinejad has helped set off a stock market boom in Iran. The Tehran Stock Exchange's benchmark index soared 131 percent in 2013 through Dec. 30 to a record, beating returns posted by 93 major global equity gauges. Most of the rally followed the election of 65-year-old Rouhani, who pledged to reestablish Iran's ties to the world economy after decades of crippling sanctions. "We are seeing a huge flow of fresh money from individual investors to the stock market," says Ramin Rabii, managing director of Turquoise Partners, an investment firm in Tehran. "Perception changed completely after the election and as political risk, the risk of war, and risk of more sanctions decreased."
In return for promising to curtail nuclear activities, Rouhani scored $7 billion in relief from sanctions, including the release of frozen assets, in November. The deal triggered speculation that OPEC's sixth-biggest crude producer will reverse a plunge in output that has sunk the economy into recession. Oil Minister Bijan Namdar Zanganeh told reporters in December that he's seeking to lure international companies including ExxonMobil and Royal Dutch Shell once sanctions are lifted.
While daily trading on the Tehran Stock Exchange, founded 47 years ago, equals only about 22 seconds worth of stock transactions conducted in the U.S., the volume is growing. On average in 2013 through November, $203 million of shares changed hands each day, up from $83 million two years ago and $20 million in 2006, according to data from the exchange. Iranians are pulling out of assets that had become the conventional stores of wealth in the Islamist republic—gold, dollars, and real estate—to free up cash to invest in the stock market, Rabii says.
The 2013 rally follows a 55 percent advance in 2012 and 24 percent gain the previous year. The market value of all companies on the exchange has climbed almost two-thirds in dollar terms since 2011, to $174 billion. The price-to-earnings ratio of stocks included in the benchmark index rose 34 percent in 2013, to 7.8, data compiled by the exchange show. That remains below the multiple of 11.8 for the MSCI Emerging Market Index. The biggest gainers among the 314 stocks on the exchange include banks and oil companies. Bank Saderat Iran, subject to European Union sanctions since 2010, climbed as much as 142 percent in 2013 from its 52-week low, and Parsian Oil & Gas Development has surged 87 percent from its trough. Rabii says the stock market has risen "too much, too quickly" and that the gains are "mostly based on sentiment rather than fundamentals."
Stocks still look good to Farshid, a 27-year-old who works in his father's construction company and also declined to give his surname. He says he's enthusiastic about Rouhani's push to have the sanctions lifted. Milling about the exchange on a recent morning to check on his stocks, he says he's put 200 million rials ($8,110) into the market since the election and is eager to invest more. "I don't have any more cash, otherwise I would," he says. "I'm hopeful."
Before it's here, it's on the Bloomberg Terminal.
LEARN MORE