From Lyve Minds, Your Own Private Cloud Server
Seagate-backed startup Lyve Minds brings networked storage home
by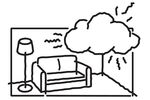 A lot of people love the efficiency of cloud services like Dropbox, Google Drive, and Apple's iCloud—until they max out on free storage space. Then some start opening multiple accounts, each with its own password to remember and files that can't be mixed and matched. Trying to connect to the cloud after switching from Apple to Android products, or vice versa, can arouse nostalgia for messy piles of paper. Lyve Minds, a startup funded by storage company Seagate Technology, aims to erase the frustration with a free online app that can turn a family's devices into a personal cloud capable of beaming data almost instantly from one device to another. "The consumer doesn't want to manage all this stuff," says Lyve Minds Chief Executive Officer Tim Bucher, a former Apple engineering executive.
Lyve plans to unveil its app and a $299 2-terabyte companion hard drive on Jan. 6 at the International Consumer Electronics Show in Las Vegas and start selling it at stores in April. Until mid-December, 90-employee Lyve had been operating in secret, using the code name Black Pearl Systems while it hired engineers from Apple, Google, Netflix, and Sony. Seagate CEO Stephen Luczo says his company plans to incorporate Lyve's app in its consumer storage products. "The cloud is just time-share, 30 years later," says Luczo. "With Lyve they're always synced, always able to get a view of all their data, anywhere."
As shrinking PC sales sap demand for conventional external hard drives, Seagate, like larger rival Western Digital, has aggressively expanded its cloud-storage business. Seagate shares rose 85 percent in 2013. Luczo says the company started funding Lyve, headquartered in a nondescript red brick building a block east of Seagate's Cupertino (Calif.) campus, in October 2012. He wouldn't say how much Seagate has invested, and Bucher declined to say whether the startup has received other funding. Seagate, with 58,000 employees, reported $1.84 billion in profit on $14.4 billion in revenue for the fiscal year ended in June. Its consumer storage business generated $1.6 billion in revenue.
By 2017 the average consumer will own at least three Web-connected mobile devices, and data traffic will be more than 13 times higher than it was in 2012, according to Cisco Systems projections. Liz Conner, a senior analyst at market researcher IDC, says most respondents in her company's surveys own an external hard drive that requires a direct connection to a computer or mobile device, but the kind of storage Lyve is prepping "still has a way to go." Still, she says, "IDC does expect it to continue to gain traction."
Western Digital CEO Stephen Milligan says his company has expanded into the cloud because it can't afford to rely on external drives. "If we were dependent solely on the PC business, we'd really be hammered," he says. This fall, Western Digital began selling a storage device called MyCloud that's similar to Lyve's hard drive. "I could be sitting here accessing something on MyCloud at home through this," he says, pointing at his smartphone, "or a PC at work or through a tablet." It doesn't quite have the networked-storage capabilities of Lyve's app, though; MyCloud users keep all their data in one place, meaning that if the central hub is corrupted, the family's network is toast.
In a conference room on a recent afternoon, Bucher tested Lyve's app, shooting photos with an iPhone that landed seconds later on the screens of Android tablets, TVs, cameras, and Lyve's storage device. For now, the company is only charging for the home server, but Bucher says future revenue could come from licensing the technology to other consumer-electronics makers. Seagate's Luczo says the Lyve app will help enhance Seagate-branded drives that he hopes to sell to device makers. "People pay for great user experiences," he says.
Before it's here, it's on the Bloomberg Terminal.
LEARN MORE