Chrysler Goes in Full to Fiat at an Affordable Price
by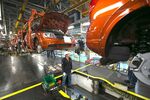 For a company on the upswing, the price of Chrysler keeps dropping.
Fiat, Chrysler's majority owner, is buying the 41.5 percent share it doesn't already own for $4.35 billion, bringing the smallest of Detroit's Big Three under the full control of the Italian automaker. The sale preempts a Chrysler initial public offering that was in the works if Fiat and a union-controlled health-care trust couldn't strike a deal.
Let's rewind the last 15 yeas of prices for Chrysler: In May 2007, private equity firm Cerberus Capital Management paid the German conglomerate Daimler $7.4 billion for an 80 percent share of DaimlerChrysler. That was nine years after the Germans paid $36 billion for Chrysler and realized only anemic profits, as the unit never yielded the cost savings Daimler expected and Japanese rivals continued grabbing U.S. market share.
The latest deal is seen as a bit of a financial engineering coup for Sergio Marchionne, the chief executive officer of both Fiat and Chrysler Group. He managed to fund the buyout mostly from Chrysler, which will pay a $1.9 billion special dividend and make annual payments through 2018 to the United Auto Workers' VEBA Trust totaling $700 million. Fiat itself will fund $1.75 billion of the price in cash, an amount that's not expected to further dent its already-troubled credit profile. The Italian company is profitable only because of its 58.5 percent Chrysler stake. The deal's structure also will allow Turin-based Fiat to avoid selling more stock to pay for the stake.
The negotiations had stumbled over price in recent weeks, with the UAW seeking at least $5 billion for its share. That price prompted Marchionne to tell union leaders they should "buy a ticket for the lottery" if they expected that much money. The process for preparing Chrysler's public sale appears to have driven both sides to compromise, with bankers setting a market value of $10 billion to $11 billion for the company. That suggested an IPO value of about $4.15 billion for the UAW's stake, Bloomberg News reported in November, making a sale to Fiat more attractive.
The agreement "is in the best interests" of the trust's Chrysler retirees and their families, Robert Naftaly, chair of the committee that governs the trust, said in a statement. The trust provides health care for 779,000 UAW retirees and their dependents, including 117,000 from Chrysler.
Chrysler has produced several popular models in recent years, including a new Dodge Dart, the Jeep Grand Cherokee, and its Dodge Ram line of pickup trucks, with sales increasing for 44 consecutive months. "The unified ownership structure will now allow us to fully execute our vision of creating a global automaker that is truly unique in terms of mix of experience, perspective and knowhow, a solid and open organization that will ensure all employees a challenging and rewarding environment," Marchionne said in a statement.
Before it's here, it's on the Bloomberg Terminal.
LEARN MORE