Don't Take Sides in Turkey's Power Struggle
The prime minister bears responsibility for resolving a crisis of his own making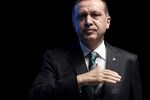 The hope that Turkey might provide a model for modernizing Muslim countries—combining Islam, democracy, and market economics—is being tested. A bitter quarrel between Prime Minister Recep Tayyip Erdoğan and his former allies continues to escalate. Financial markets are running scared, punishing the country's stocks and currency. The fight doesn't just threaten Erdoğan's government; it also calls into question vital Turkish institutions, including the rule of law.
Corruption investigations implicating ministers in Erdoğan's government provoked the new crisis. It's widely believed that many prosecutors and investigators are followers of Fetullah Gülen, an Islamic teacher, and that their charges are politically motivated. So far the probes have forced Erdoğan to accept the resignations of three cabinet ministers and remove a fourth in a broader cabinet reshuffle. Now prosecutors are trying to launch a new inquiry into an organization run by Erdoğan's family. After resigning on Christmas Day, former Environment and Urban Planning Minister Erdoğan Bayraktar said the prime minister personally approved deals under investigation and should quit.
Erdoğan needs to make clear the corruption cases will be properly investigated and answered. To make that credible, he should admit to his own role in politicizing the courts and judiciary, then embark on genuine reform. He should also call early parliamentary elections. His Justice and Development Party would most likely return to power, though with a smaller majority that might oblige him to share power. He should declare his willingness to do that.
The U.S. and European Union should mostly stand aside, lest they feed Erdoğan's conspiracy theories. But the EU would do well to recognize that the 2009 decision to block negotiations for Turkey's entry into the union, especially in the area of justice, freedom, and security, was a mistake. That error should be put right, encouraging Turkey to meet the EU's judicial and law enforcement standards, which would help build confidence in its institutions.
BOTTOM LINE -
To read Albert L. Hunt on Obama in 2014 and Stephen L. Carter's New Year's wishes for Hollywood, go to: Bloomberg.com/view.
Before it's here, it's on the Bloomberg Terminal.
LEARN MORE