A Guide to 2014's Flavor of Apple Skepticism
By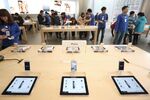 Last year marked the first time during the iPhone era when people began to question how long Apple can maintain its standing in the mobile world. While 2013 was hardly disastrous for the company, 2014 started with a fresh note of skepticism, as a Wells Fargo analyst downgraded his ranking on Apple's stock. For the naysayers, here are some marching orders.
Maynard Um, who wrote the report, isn't predicting Apple's downfall—the rating dropped to market perform from outperform—but he does note a few factors he thinks are working against the company. The first is the expected arrival of the iPhone 6, which, if the company's past behavior is any indication, will be a significant overhaul. It's not that a revamped iPhone isn't expected to sell but that it would cost more to make, driving down Apple's profit margin. Um thinks this is likely to spook investors. "While our call may be a little early, we believe concerns will mount," he writes.
There's also the question of finding new smartphone customers. In increasingly saturated advanced markets, phonemakers will have to steal users from competitors. This dynamic proves worrisome to pretty much everyone involved in the smartphone business this year, even Apple. Then again, Apple finally consummated its relationship with China Mobile after a years-long flirtation, which should allow Apple to tap into a significant new market.
Finally, Um raises the issue of the balance of power between carriers and smartphone manufacturers. The iPhone's popularity is due largely to carriers' willingness to pay for a big chunk of the phone up front, then recover that cost over the course of a two-year contract. Carriers complain about the terms of these deals with Apple, which is known for being a tough negotiator. According to Um, the carriers could decide to focus more on driving increased usage and reducing these subsidies.
In that case, Apple would be in for quite a shock, says industry analyst Benedict Evans, who is with Enders Analysis in London. But so-called subsidies are more like loans. The carriers are only delaying their own gratification, making a payment up front that they recover fully from customers while also driving the increased data usage—and charges. "There's no doubt that if subsidies magically disappeared tomorrow, sales of high-end smartphones would be much less," says Evans. "But the core of it is, if you stop subsidizing smartphones, you stop getting two-year contracts."
There's some evidence that the deals with Apple may not be the best way to get customers to spend more. Android users actually use more data than iPhone users, according to a recent report by Ericsson. But those data come from the same high-end smartphones whose appeal would drop if people had to pay the full price on the day of purchase. "When operators focus on the low-end Android segment, the average usage is usually lower than for iPhones," writes Ericsson.
Evans doubts that carriers will make any significant move to change the smartphone market this year. While T-Mobile has begun pushing some of the sacred cows of the U.S. market, Evans doesn't see a scenario in which carriers act independently to all do the same thing. "If AT&T stops offering subsidies, and you're Verizon, what do you do," he says.
Both Apple and the overall market started the year on a downturn, with Apple down almost 1.5 percent at 12:30 p.m., and the S&P 500 down about 1 percent.
Pessimism aside, Um also holds out for some positive news for Apple in the year ahead. The iPhone 6, iWatch, and iBeacon could all get people opening their wallets in the year ahead. Apple yeasayers will doubtlessly be exploring the vast potential of these developments as the year progresses.
Before it's here, it's on the Bloomberg Terminal.
LEARN MORE