11 Book Recommendations for the B-School Break
By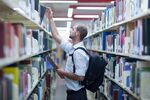 January holds rare gifts for MBA candidates: time and—for those who have already lined up internship and job offers—a respite from business school stress. For many, the month offers the chance to deepen relationships with classmates or to advance their training outside the campus setting.
For the bookworms among the MBA set, winter break is a time to catch up on your reading. Here are 11 recommendations from business school deans, professors, students, and alumni:
The Stanford Graduate School of Business collected 2014 reading recommendations from alumni, including Bonobos Chief Executive Officer Andy Dunn and Wealthfront CEO Andy Rachleff. The full list, which includes classics like The Innovator's Dilemma, is here. The most surprising entry: Status Anxiety, by Alain de Botton, which draws from St. Augustine, Machiavelli, Andrew Carnegie, and others to argue that human's "insatiable quest for status … has less to do with material comfort than with love."
Wharton professor Adam Grant has a list of practical titles, including Leaders Eat Last, from Start With Why author Simon Sinek, and Adam Bryant's collection of wisdom from hundreds of CEO interviews, Quick and Nimble. For something a little more offbeat, Grant recommends The Humor Code, by Peter McGraw and Joel Warner, a far-reaching quest to figure out "what makes things funny."
Darden School of Business Dean Bob Bruner blogs about some of the books that "rocked my world" in 2013, including a healthy dose of history. Among the entries: American Colossus, on 19th century capitalism by H.W. Brands, and The Swerve, Stephen Greenblatt's attempt to locate the roots of the Renaissance.
Simon School of Business Dean Mark Zupan's recommendations, passed on in an e-mail, include Thinking, Fast and Slow by Daniel Kahneman, and The $10 Trillion Prize, about the rising consumer markets of China and India, from the Boston Consulting Group.
Liz Fischer, who co-chairs the student book club at the Booth School of Business, says A Moveable Feast, Ernest Hemingway's memoir of life in 1920s Paris, was the most recommendable book the club read last year. "It's transporting and such a world apart from MBA considerations," she writes in an e-mail. Meanwhile, she just finished The Goldfinch by Donna Tartt over the holidays. "One of the best books I have ever read," she writes. "It's about 800 pages, so there's no other time of year I could've read that continuously."