Taiwan President Seeks End to China Political Standoff
Cindy Wang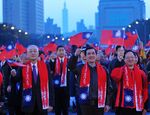 Taiwan's President Ma Ying-jeou said in a New Year's address the government needs to end its political stalemate with China to spur economic growth.
Taiwan needs a breakthrough in its decades-old standoff with China to take its economy to the next level and "boost cross-strait economic and trade cooperation," Ma said in a speech posted on the presidential website yesterday.
Chinese President Xi Jinping signaled at a regional summit last year that he wanted to resolve the political impasse that has existed with Taiwan for over six decades, saying the issue shouldn't be passed from generation to generation. China claims sovereignty over Taiwan, which has been self-governing since 1949. That's when Kuomintang Party forces led by Chiang Kai-shek fled to the island during a war with Mao Zedong's Communists for control of China.
Ma is seeking to bolster his approval ratings as he leads the Kuomintang into mayoral elections for the capital, Taipei, and other cities this year. His popularity fell to a record low last year after he failed to oust a rival from the legislature and the economy slowed.
Trimmed Forecast
Taiwan in November trimmed its 2013 growth forecast to 1.74 percent from 2.31 percent as exports and industrial production decelerated. Exports, which made up about 60 percent of the island's economy in the third quarter, fell in September and October from a year earlier and were unchanged in November on slower demand from China, its biggest overseas market.
"This administration's top priority is to do all that can be done to achieve economic growth," Ma said.
The Taiwan dollar gained 0.4 percent against the U.S. dollar as of 11:36 a.m., prices from Taipei Forex Inc. show. Taiwan's benchmark Taiex index fell 0.1 percent.
Taiwan must take part in regional economic integration in order to maintain economic growth, expand trade and investment, increase job opportunities and increase salaries, Ma said.
The Taiwanese leader also called for the ruling and opposition parties to work together to pass bills that will spur economic development. A delay in the ratification of the Cross-Strait Trade in Services Agreement has made Taiwan's trading partners less willing to sign free trade agreements with the island, Ma said.
Market Opening
"Currently, our most important task is to speed up the pace of trade liberalization and market opening," Ma said. Lawmakers agreed to conclude public consultations on the services agreement before March, after which legislative debate could begin.
The island signed free trade agreements last year with Singapore and New Zealand, both of which have diplomatic relations with China, as ties with the mainland improved. Ma's administration has also said it plans to join the Trans-Pacific Partnership by 2020.
Taiwan's mainland affairs minister, Wang Yu-chi, is scheduled to meet Zhang Zijun, head of the China State Council's Taiwan Affairs Office, in February for the first meeting between the the counterparts.
"The Taiwan Strait is no longer a tense flashpoint, but rather has become an avenue of peace, and a gateway through which other countries can enter the mainland Chinese market," Ma said.
Before it's here, it's on the Bloomberg Terminal.
LEARN MORE