S. Korea Sees Fastest Export Growth Since 2011 on Mobiles, Autos
Eunkyung Seo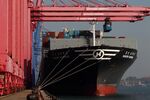 South Korea's exports are forecast to grow the most this year since 2011 as shipments of mobile phones and automobiles increase, even as the yen's weakening against the won imposes limits on the nation's trade.
Overseas shipments in Asia's fourth-largest economy will increase 6.4 percent this year after an estimated 2.2 percent gain in 2013 and a 1.3 percent decline in 2012, the Ministry of Trade, Industry and Energy said in an e-mailed statement today.
Samsung Electronics Co. posted record third-quarter earnings on demand in emerging markets for its smartphones while Hyundai Motor Co.'s profit increased as car sales rose in China. Posing a risk for South Korean exporters is the possibility the won will continue to strengthen against the yen after rising 22.5 percent in 2013, putting the companies at a disadvantage to Japanese competitors.
"U.S. and advanced economies are recovering and China will continue to grow, boding well for our exporters," the ministry said in the statement. "However, the won's rise against the dollar and yen is a threat."
Ships, mobile phones and automobiles will lead strong growth in overseas sales this year, the ministry said. The trade surplus will drop to $33.5 billion from an initial estimate it will be a record $44.2 billion in 2013 as imports rise on stronger domestic demand, it said.
The ministry initially projected 4.1 percent export growth for last year.
Currency volatility will be the biggest downside risk for the nation and its exports will see "significant" impact if the yen falls further, a Bank of Korea board member said at a Dec. 12 rate meeting, according to minutes released on Dec. 31.
Exceeds Estimates
Last month, exports jumped 7.1 percent from a year ago, beating the median economist estimate of 4.8 percent in a Bloomberg survey. Improving demand from the U.S. and China and a day-and-a-half of extra working days compared with a year ago boosted the figure, the ministry said.
South Korean policy makers should focus on strengthening the nation's long-term growth base when there are clearer signs that the U.S. and other advanced economies are recovering from the crisis, Bank of Korea Governor Kim Choong Soo said on Dec. 31 in his New Year speech.
The BOK will keep its benchmark interest rate unchanged at 2.5 percent on Jan. 9 as consumer inflation has stayed below its target range between 2.5 percent and 3.5 percent since May 2012, according to four economists surveyed by Bloomberg.
Before it's here, it's on the Bloomberg Terminal.
LEARN MORE