Xi Says in New Year's Address China Will Progress on Reform
Bloomberg News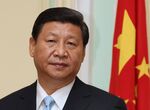 Xi Jinping, delivering his first New Year's address as China's president, said the country must press ahead with reforms in 2014 to improve livelihoods and make the country "rich and strong."
China enters 2014 facing slowing economic growth, rising environmental concerns and higher tensions with Japan over a territorial dispute that has damaged a $366 billion trade relationship. Tackling those challenges will be up to Xi, who as head of the Communist Party, military and state has amassed the greatest individual sway over his nation since former paramount leader Deng Xiaoping.
"In 2014 we will make new strides along the path of reform," Xi said in a speech broadcast on state radio yesterday. "I firmly believe that new glories will be awaiting the Chinese people."
In his new year address, Xi said a key task will be overseeing the broadest economic reforms since the 1990s which were spelled out at the Communist Party Central Committee's Third Plenum in November. Shifts include loosening the one-child policy, increasing property rights for farmers and encouraging private investment in more industries.
China's equities slumped last year amid concern economic growth will slow without structural reforms such as revamping the nation's state-owned enterprises. The Shanghai Composite Index fell 6.8 percent in 2013, capping a third year of declines out of four and the worst-performing market in Asia.
Growth Slowed
An official report today showed a manufacturing index slipped to a four-month low in December, underscoring challenges for Xi he tries to sustain economic momentum while rolling out reforms. The Purchasing Managers' Index was at 51, the statistics bureau and the logistics federation said in Beijing. That was less than the median 51.2 estimate in a Bloomberg News survey of 29 economists and November's 51.4. A number above 50 indicates expansion.
China estimates that economic growth slowed to 7.6 percent last year, according to a report by the State Council to the legislature. Analysts surveyed by Bloomberg News in December see growth slowing to a 24-year low of 7.5 percent in 2014 and 7.2 percent in 2015.
The official Xinhua News Agency said on Dec. 30 that Xi will head a reform leading group to guide changes agreed to at the Third Plenum.
Soft Power
"Xi's appointment as the head of the leading group is very significant," Dariusz Kowalczyk, senior economist and strategist at Credit Agricole CIB in Hong Kong, said in an e-mail. "It means that the reforms are a top priority for the current leadership, and therefore markets should watch them very carefully as a key driver of China's economic and social policies in coming years."
People's Bank of China Governor Zhou Xiaochuan said the nation will maintain a "prudent" monetary policy and promote financial reforms in 2014, according to a New Year's Eve statement posted on the central bank's website. Policy makers will ensure financial stability, he said.
In a separate speech published by Xinhua yesterday, Xi said that China will also strive to improve its "soft power."
China has proved that its "path, theory and system" of socialism with Chinese characteristics is a success, Xi was quoted by Xinhua as saying. "Everyone can realize his own dream in fighting for the China Dream," he said.
Japan Tensions
Chinese state media describe the space program as an element of the China Dream, a slogan unveiled by Xi that signifies a stronger military as well as improved livelihoods. Last month, China landed an unmanned rover on the moon, making the Asian nation the third country after the U.S. and the Soviet Union to touch down a spacecraft on the lunar surface.
Tensions have spiked with Japan since the Japanese government bought several islands at the center of a territorial dispute with China in September 2012. In November, China prompted criticism from the U.S., South Korea and Japan after it announced an air defense zone over the islands. China on Dec. 30 ruled out meetings with Prime Minister Shinzo Abe after he visited a shrine that memorializes Japan's fallen soldiers, including war criminals.
"I sincerely hope that people in the world can understand and help each other when achieving their own dreams, in efforts to make the Earth where we live a nice home for all of us," Xi said in his speech.
— With assistance by Li Liu, and Kevin Hamlin
Before it's here, it's on the Bloomberg Terminal.
LEARN MORE