BP Oil-Spill Settlement Imbroglio Enters Strip Club Phase
Paul M. Barrett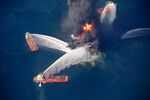 While I was on holiday break, the BP oil-spill settlement scandal descended into the realm of strip club assignations. That's what happens when you take your eye off the news for a few days.
To review briefly: The April 2010 Gulf of Mexico well blowout and rig explosion killed 11 workers and created a horrific mess off the coast of Louisiana. Lawsuits and prosecutions ensued. BP began paying out billions of dollars for cleanup and damage claims. A majority of the contamination has dissipated, thankfully, and the Gulf economy has mostly recovered. BP's tab has exceeded $25 billion and it's climbing, probably to the vicinity of $40 billion. The company has pleaded guilty to criminal charges, settled with some parties, and is still fighting in court against others. Early last year, though, BP came to the conclusion that some plaintiffs' lawyers and their clients were taking advantage of the situation and filing unsubstantiated claims—an allegation hotly (but not terribly convincingly) contested by the plaintiffs' bar. As a result, the hostilities in New Orleans federal courtrooms are heating up just as one might have hoped they'd be cooling off.
Now to the strip club. BP has alleged that one component of its settlement with certain Gulf businesses went seriously awry, leading to the payment of hundreds of millions of dollars of questionable claims. The federal judge who approved the pact, Carl Barbier, thought otherwise and ordered that the settlement money continue to flow, even as he gave in to BP's demand for an outside investigation. Former FBI Director Louis Freeh, now a lawyer in private practice, has sniffed out troubling evidence of corruption; he's due to issue another report early next year.
Meanwhile, BP has gone on the offensive against Judge Barbier and Patrick Juneau, the local lawyer Barbier approved to oversee the business-claims process. In its latest salvo, an advertisement published just before Christmas in the New York Times, Washington Post, and Wall Street Journal, BP noted that five of Juneau's top 10 senior officials have resigned or been terminated in just 18 months. "What's going on here?" BP asked. Part of the answer, according to the company:
The settlement program's CEO and COO resigned [in mid-December] after reports that they had been entertaining their subordinates at a New Orleans strip club. The same strip club whose gulf settlement claim was awarded more than $550,000 during the period they were frequenting it.
Even for New Orleans, a town with an expansive conception of entertainment and a generous sense of humor, that's a scandal.
Juneau has named a former FBI man (not Freeh) as the interim CEO of the multibillion-dollar settlement program. The new CEO, David Welker, served as the special agent in charge of the FBI's New Orleans field office before going to work for Juneau as head of security in June 2012. In a written statement to the Associated Press, Juneau said the former CEO, David Odom, and the program's COO, Kirk Fisher, resigned to pursue "other business opportunities"—always a reassuring explanation in this kind of situation. Juneau did not comment on BP's strip club allegations, according to the AP.
There appears to be more going on here than Juneau would like to discuss publicly. For one thing, in an initial investigative report in September, Freeh said that Odom and Fisher had formed a company to work on unrelated litigation under the supervision of a firm that is a contractor for the Juneau settlement program. That sure doesn't smell right. Freeh presumably will have more to say on the topic when he issues his next report.
Back in July, I warned that Freeh's investigation "could reveal major legal funny business in the Big Easy." That prediction was based on earlier reporting I had done for a Bloomberg Businessweek cover story on the creative recovery theories that plaintiffs' lawyers were using to get their mitts on BP cash. Expect more such revelations in the new year.
Before it's here, it's on the Bloomberg Terminal.
LEARN MORE