Why the TV of the Future Might Die Before It Was Really Launched
By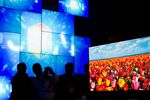 As two titans of the television industry, Sony and Panasonic, end a joint venture to develop better manufacturing techniques for organic light-emitting diode displays, is it time to say R.I.P to OLED?
The arrival of OLED TV, a technology experts view as a superior performer, has been a years-in-the-making proposition hampered by thorny cost and reliability issues. Now it appears to have been superseded by a high-priced alternative. TV manufacturers have moved to Ultra HD displays based on older, liquid-crystal technology that offer four times the resolution of current high-definition screens. While there's almost nothing to watch in Ultra HD format, the industry expects sales growth in 2014. Samsung said today it has begun taking orders for a 110-inch Ultra HD model that will sell in South Korea, China, Europe, and the Middle East. The price tag in South Korea: about $150,000.
Samsung and LG each have 55-inch OLED models on the market, although the category has remained a niche in consumer electronics because it's expensive. And the new technology offers several advantages. An OLED display boasts no backlighting, which means that a black image on the screen is pure black, instead of merely a dark gray of varying intensity. The technology offers a higher contrast ratio—images "pop" from the screen and colors appear deeper. An OLED TV can also be made far thinner than liquid-crystal and plasma displays. "OLED is the true successor in picture quality to plasma," Gary Merson, the editor of HDGuru.com, told me earlier this year. "The only issue is we don't know how long it's going to take for the cost to go down and be competitive."
Those costs—$8,000 and higher for current models—speak to how OLED has proved to be a technical nightmare for television makers. The primary goal of the Sony-Panasonic partnership, which started in June 2012 and ends on De. 31, was to figure out how to make the technology cost effective; the companies were unable to figure out manufacturing efficiencies or to make the displays more durable, as Nikkei News reported last week.
Panasonic and Sony both had planned to release OLED televisions in early 2014, and it's unclear whether the dissolution of their research venture will alter those plans. "From now on, each company will independently continue development of OLED, utilizing the results of their joint collaboration," Panasonic spokesman Jim Reilly said in an e-mail, declining to comment on the company's future plans for OLED sets. A Sony spokesman told Bloomberg News that the company would continue its OLED research.
Sony introduced the first OLED television seven years ago, an 11-inch model that demonstrated the technology's many virtues. Four years passed before Sony presented additional OLED displays, and those were not for the consumer market. Panasonic and Sony both showed large OLED displays last January at the Consumer Electronics Show. A press release Sony issued at the time focuses on myriad technical hurdles that almost never make their way into publicity materials aimed at consumers.
If the technical and cost issues can be tamed, however, future TV buyers are likely to watch large, ultra-high-resolution displays that leapfrog what has been possible with current televisions. OLED displays, says Rob Sabin, editor of Sound & Vision magazine, are "sort of a cure-all that brings everything to the table." Unfortunately, it also seems to bring a cripplingly hefty price tag.
Before it's here, it's on the Bloomberg Terminal.
LEARN MORE