pursuits
Walter Isaacson on Crowdsourcing His New Book
By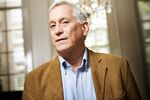 Several weeks ago, Walter Isaacson, the author of the biography Steve Jobs, quietly began an experiment: He posted a passage from his new book, about the origins of the personal-computing age, on the website LiveJournal and asked for feedback. Not much happened, so he turned to Scribd, then to Medium, the buzzy writing website created by Twitter co-founder Evan Williams. One post on Medium was read by about 18,000 people and inspired about 125 comments, plus dozens of e-mails and a few full articles exploring some aspect of Isaacson's subject matter, the author said in an interview on Saturday.
The people responding have ranged from folk Isaacson doesn't know of to some of his primary subjects. Stewart Brand, the editor of the Whole Earth Catalog, who figured prominently in Silicon Valley circles in the 1960s and 1970s, wrote a lengthy response without specific prompting from Isaacson, who then posted it to Medium as a separate post.
Isaacson's search for online collaborators was inspired primarily by a desire for help in writing a book, which can be a difficult task. But he says it also makes sense, given the focus of his book: the people who laid the foundation of modern digital technology. "I got to the point of the book where people started using the Internet to collaborate," he says. "It didn't take a genius to say, 'why don't I use the Internet to collaborate?'"
The experiment, which received wide attention from technology blogs on Monday, is the latest effort to use technology to change the way books are written and read. As far back as the period covered in Isaacson's book, people have been convinced that the Internet would transform the writing process and, in so doing, redefine the very idea of what constitutes a book. The Wikipedia page for the term points out that Wikipedia itself is a networked book.
Earlier this year, Bob Stein, the founder of the Institute for the Future of the Book, wrote that the definition of a book as a physical object is long outdated. The concept of a book, he said, refers to the way something is experienced. "From this perspective a book isn't ink on bound paper, but rather a 'user-driven medium' where the reader is in complete control of how they access the contents," he argued. Stein said he saw books as digital places "where people congregate to hash out their thoughts and ideas."
Stein's organization helped produce a number of networked books. McKenzie Wark, a professor at the New School, released an initial version of his book Gamer Theory online in 2006, then carried out a lengthy discussion with readers online and published a 2.0 version of the work incorporating their ideas. (He also published the book as a hard copy through Harvard University Press, which he called version 2.1.)
It's far from clear, however, whether networked books are actually good business opportunities. Startups that focused on the fundamental transformation of books have languished. Holladay Saltz, who worked on the Institute for the Future of the Book, acknowledged the group made no progress on new business models.
For his part, Isaacson is still testing the various flavors of collaboration. Posting his excerpt on Scribd led to an unwieldy wave of e-mails, he said: "It's kind of like Benjamin Franklin circulating his writings through the postal service and getting letters back." He found Medium to be the most effective, because it allowed readers to post comments in the margins next to a specific sentence or paragraph, sparking a more focused conversation around a single thought. Their comments appear as annotations on his original essays.
All this collaboration is useful, says Isaacson, but it won't change the final form of the book much. While he says he's interested in the idea of a Wikipedia-esque form of collaborative writing, he's not operating a democracy. "You can take this too far," he says. "There has to be someone in charge."
So while Isaacson may compare the process with releasing open source code—which evolves through constant modification by anyone who sees a way to improve it—he's sticking to the analog business model for authors. Eventually he'll finish his own narrative, have it bound, and sell it with his name on the top.
Before it's here, it's on the Bloomberg Terminal.
LEARN MORE